WASHINGTON - A US diplomat will visit Pyongyang this week to try to push forward a stalled deal under which the North Korea promised to disclose all its nuclear programs and eventually abandon them, a US official said on Monday.
The trip by State Department official Sung Kim appears aimed at persuading North Korea to provide a complete and correct declaration of its nuclear programs that it failed to deliver by a December 31 deadline.
"I am hopeful that the North is now ready to have serious discussions about that and we will see," said US Secretary of State Condoleezza Rice, who is expected to visit South Korea on February 25 for the inauguration of President-elect Lee Myung-bak.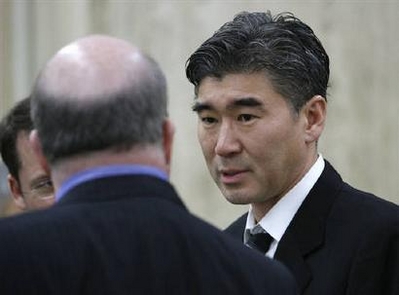 Sung Kim, director of the Korean affairs desk at the US State Department, talks to a US official upon his arrival at Gimpo airport in Seoul in this January 8, 2008 file photo. [Agencies] 
Once North Korea has provided the declaration and disabled its key nuclear facilities at Yongbyon, the United States is expected to take steps to ease trade and to remove some US economic sanctions against the country.
If these steps are taken, the United States hopes to enter the final phase of a multilateral agreement under which North Korea would actually dismantle its nuclear facilities and abandon all nuclear weapons and programs.
Making progress to denuclearize North Korea, whose October 2006 nuclear test was seen as a direct threat by US allies South Korea and Japan, is a major foreign policy priority for US President George W. Bush in his last year in office.
Sung Kim, the director of the State Department's Office of Korean Affairs, was scheduled to visit Seoul on Tuesday and Beijing on Wednesday before arriving in Pyongyang on Thursday, said a US official who asked not to be named.
"He is leaving today for six-party consultations in Seoul, Beijing and Pyongyang on how to move the six-party process forward," the US official said, referring to talks among the two Koreas, China, Japan, Russia and the United States that aim to get North Korea to give up all atomic weapons and programs.
Kim is scheduled to return to Washington on February 3.