WASHINGTON - A senior US official will visit the Democratic People's Republic of Korea (DPRK) this week in a bid to persuade Pyongyang to keep its promise to disclose all its nuclear programs and eventually abandon them, local media reported on Monday.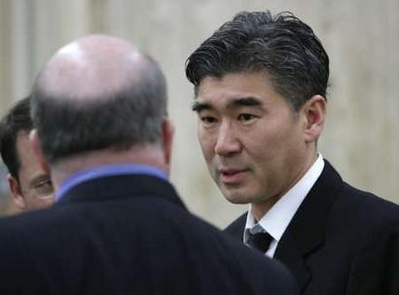 Sung Kim, director of the Korean affairs desk at the US State Department, talks to a US official upon his arrival with Christopher Hill, top nuclear envoy and US Assistant Secretary of State, at Gimpo airport in Seoul January 8, 2008. North Korea's failure to meet a deadline to declare its nuclear activities needs to be confronted with patience and perseverance, Hill said on Monday. [Agencies]
Sung Kim, the director of the State Department's Office of Korean Affairs, was scheduled to arrive in Pyongyang on Thursday after his visit to South Korea on Tuesday and China on Wednesday, the report quoted an unidentified U.S. official as saying.
Kim is expected to return home on February 3.
Observers have noticed that Kim's scheduled visit to Northeast Asia occurs at a time when the United States has kept complaining that the DPRK failed to announce "a complete and correct declaration" of its nuclear programs.
Under an agreement reached in October 2007 at the six-party talks, the DPRK agreed to disable its key nuclear facilities at the Yongbyon complex, and to declare all other nuclear programs by the end of the year.
The six parties refer to the United States, the DPRK, China, South Korea, Japan and Russia.