Sir Edmund Hillary, the first person to conquer Mount Qomolangma (Everest) and one of the 20th century's greatest adventurers, died on Friday, aged 88.
The New Zealander devoted much of his life to aiding the mountain people of Nepal and took fame in his stride, preferring to be called Ed and considering himself an "ordinary person with ordinary qualities".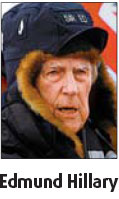 Hillary had been unwell for some time and died in hospital at about 9 am from a heart attack, health officials in Auckland, his hometown, said.
Family spokesman Mark Sainsbury said it had accepted the offer of a State funeral, on a date to be set.
Hillary's life was marked by grand achievements, high adventure, discovery and excitement - as well as by his personal humility.
He was humble to the point that he admitted being the first man to reach the summit of Qomolangma only long after the death of Tenzing Norgay, the mountain guide with whom he stood arm in arm on the world's highest peak on May 29, 1953.
He did show some pride, however. On his return to base camp after the successful ascent, he declared: "We knocked the bastard off."
But Hillary was always most proud of his decades-long campaign to set up schools and health clinics in Nepal, Tenzing's homeland.
The pair spent just 15 minutes on the summit, taking photographs as evidence of their achievement, before starting the arduous descent.
As a pioneering exploit, the feat stands alongside Roald Amundsen's 1911 trek to the South Pole and Charles Lindbergh's nonstop transatlantic flight in 1927, although Hillary always said he was stunned at the international reaction that elevated him to hero status.
"Sir Ed described himself as an average New Zealander with modest abilities," Prime Minister Helen Clark said in a statement announcing his death.
"In reality, he was a colossus. He was a heroic figure who not only 'knocked off' Everest but lived a life of determination, humility, and generosity."
A book of condolences will be open for signatures at the New Zealand embassy in Beijing from Monday to Wednesday.