TOKYO - Japan decided to give up the plan to build a national security council similar with the US one, top government spokesman said Monday.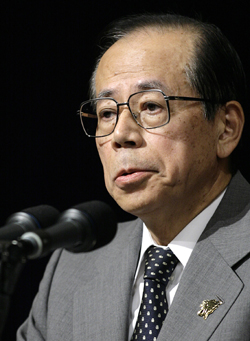 Japan's PM Fukuda [File photo]
"Current circumstances do not allow for deliberations of the relevant bills and there is little chance that they will be enacted," Machimura was quoted by Kyodo News as saying. Such bills would be abolished during the current parliament session, he added.
Prime Minister Yasuo Fukuda said at a meeting of the existing nine-member Security Council of Japan that the government intends to give up the plan, Kyodo said.
As the opposition parties, who oppose the plan, practically control the House of Councilors, it would be difficult for the government to have the bills clear the parliament.
In April 2007, the Japanese government approved a bill to set up a national security council, with a view to enhance the prime minister's leadership in foreign and defense affairs decision- making procedures. The bill was submitted to the previous ordinary Diet session.
Under the plan proposed by former premier Shinzo Abe, the council would be headed by the prime minister and would take over the functions of the existing nine-member Security Council of Japan. The envisioned body's primary members were planned to include the chief Cabinet secretary, the foreign minister and the defense minister.