Berlin - Paris Hilton is looking for a boyfriend and knows exactly what qualities Mr. Right should possess.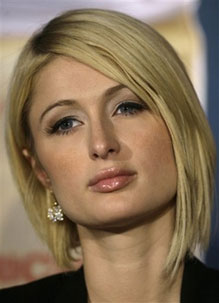 US heiress Paris Hilton listens to reporters' questions during a news conference to promote a Prosecco company at a bar in Berlin, December 12, 2007. [Agencies]
"Right now I'm single but I am looking for a nice boy," she told reporters in Berlin on Wednesday. "He should be funny, smart and loyal."
The celebrity heiress, author, singer, perfume designer and reality TV star was in the German capital to take part in an advertising campaign for Rich Prosecco -- a sparkling wine that is to be sold in cans.
Hilton said she was planning to visit one of Berlin's Christmas markets, the city's famous museums and had already been partying at Berlin's trendy Cookies club.
Hilton, wearing a black glittering dress and a golden chain and cross around her neck, also told reporters that she is making an effort to personally contribute to protecting the environment.
"I changed all the light bulbs to energy safe light bulbs and I'm buying a hybrid car right now," Hilton said, adding she also turned off the lights at home, didn't leave the TV on or the water running when she left the home.
"Little things that people can do every day to make a huge difference."