TUNIS -- The Palestinians aim to create an independent state with East Jerusalem as its capital through the resumed peace talks with the Israelis, Palestinian leader Mahmoud Abbas said on Thursday.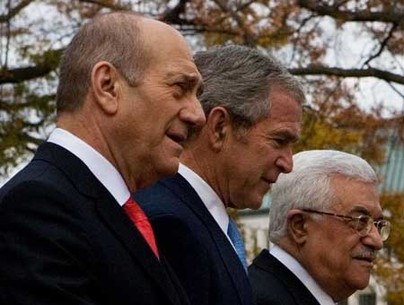 US President George W. Bush (C) Israel's Prime Minister Ehud Olmert (L) and Palestinian Authority President Mahmoud Abbas pose for photos during the Mideast peace conference,in Annapolis, Maryland, Nov. 28, 2007. [Agencies]
Abbas, who arrived here Thursday after attending the US-sponsored Middle East peace conference, told a rally that the newly resumed negotiations will be a very complicated and arduous process.
The peace conference, held in Annapolis, Maryland, was aimed at relaunching negotiations over a "two-state solution" that could lead to an independent Palestinian state in the Gaza Strip, West Bank and East Jerusalem.
Abbas expressed the hope that the two sides will conclude all final-status negotiations on the issues of Jerusalem, refugees, settlements, borders, water resources and security, and reach a solution that can be put into practice at once by the end of 2008.
He noted that the Annapolis peace conference announced the resumption of the stalled peace talks and laid out the groundwork for the upcoming negotiations, namely "land for peace" principle, the roadmap peace plan and the Arab Peace Initiative.
The international community needs to make unremitting efforts to put the goals set at the conference into reality, he said.
Also on Thursday, Abbas briefed Tunisian President Ben Ali on the Annapolis conference and both sides discussed bilateral ties.
Abbas said the Palestinians would make a new start from Tunisia in its endeavor to establish an independent state of Palestine with East Jerusalem as its capital by 2008.
The two leaders also discussed bilateral issues. Abbas thanked Tunisia for its consistent support for Palestine, describing the bilateral ties as good and sound.
After an Israeli military invasion into Lebanon in 1982, the headquarters of the Palestinian Liberation Organization (PLO) moved to Tunisia, which was home to the PLO for more than a decade until 1994.