JERUSALEM - Israeli police said on Thursday there was insufficient evidence to indict Prime Minister Ehud Olmert in a graft case, a major boost for the premier as he returned home from a US peace conference.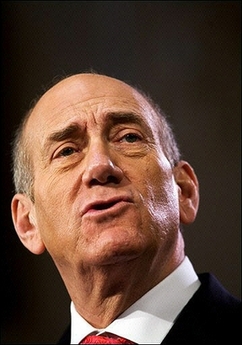 Israeli Prime Minister Ehud Olmert speaks 27 November 2007 during the Annapolis Conference in Maryland. [Agencies] 
"There is insufficient evidence to indict Prime Minister Ehud Olmert in the Bank Leumi case," police spokesman Micky Rosenfeld told AFP, following a months-long investigation into allegations of abuse of influence.
The decision comes as a welcome respite for Olmert, who has been dogged by corruption allegations ever since he officially assumed his post last year.
The announcement came just hours after the premier flew home from US-hosted conference at which Israel and the Palestinians revived the peace process following a seven-year freeze.
Prosecutors will now decide whether to formally close the file against the 62-year-old Olmert, who has denied all wrongdoing.
In January, Attorney General Menahem Mazuz ordered a criminal probe into Olmert over alleged abuse of influence in the privatisation of Bank Leumi, the country's second-largest bank.
The probe had focused on suspicions that Olmert, when acting finance minister in 2005 under former prime minister Ariel Sharon, tried to steer the sale of Bank Leumi toward his friend, Australian real estate baron Frank Lowey.
The bank was eventually sold to another company with no relation to Lowey.
Olmert was grilled by police twice as part of its investigation.
Police had originally planned to make public their decision on Sunday, on the eve of the US conference, but delayed it until after the premier's return.
Olmert currently faces two other criminal probes, one over a real estate transaction in 2004 and another over political appointments he made while trade and industry minister in 2005.
The premier, dubbed one of Israel's most able politicians when he officially took office in May 2006, is not required to step down during the investigations.
None of the previous corruption probes that have focused on Olmert have resulted in charges being filed.
But the graft allegations, along with the perceived failure of Israel's 34-day war last year with Lebanon's Hezbollah militia, had at one point sunk Olmert's approval ratings to single digits - the lowest of any Israeli premier.
The ratings have been slowly climbing over the past several months.
A poll earlier this month showed that for a second year in a row Israelis regard Olmert as the most corrupt member of the nation's cabinet, with 56 percent naming him.
An survey released on Thursday showed Olmert trailing in third place of people best suited to be prime minister, with 14 percent. He trailed right-wing opposition leader Benjamin Netanyahu, with 34 percent, and Defence Minister Ehud Barak with 17 percent.
The premier was the only top official who had survived calls for his head following the Israel-Hezbollah war. A government commission is due to issue its final report into the conflict by the end of this year.