ISLAMABAD -- Pakistan People's Party (PPP) Chairperson Benazir Bhutto has been taken into protective custody in view of the threat of terrorist attacks at her proposed public rally, said Federal Minister for Railways Sheikh Rashid Ahmad Friday.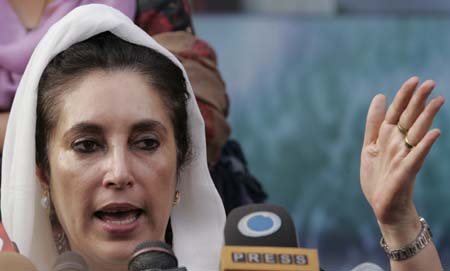 Former Pakistani Prime Minister Benazir Bhutto speaks during a news conference at the party secretariat in Islamabad Nov. 7, 2007. [Xinhua]
The former information minister was commenting on reports of Bhutto's house arrest while talking to the private Geo TV.
He said that Bhutto had been asked to remain confined to her residence in the capital of Islamabad and not to lead the public rally to the nearby city of Rawalpindi due to security reasons.
Rashid said that the decision had been taken on information that a few terrorists had entered the city to sabotage the PPP leader's scheduled rally there.
On emergency, he said that it would be lifted soon after the decision of the Supreme Court on a petition about the re-election of President Pervez Musharraf.
After the top court's judgment to this effect, the assemblies would be dissolved, he added.
Islamabad Capital Territory Police have also denied Bhutto's house arrest.
"She is not under house arrest. Only the security has been enhanced," said Additional Superintendent of Police Aftab Nasir.
He said that more police had been deployed due to security reasons.
Bhutto is in her house and her staff and party leaders are allowed to meet her, Nasir said.
"Only the general public do not have an access to her and it is for her security," he added.
When asked about the time span for security measures, he said, security cover will stay till the evening.
The PPP media center has also denied reports of Bhotto's house arrest.