Leaders of the two Koreas agreed on October 4, 2007 to try to bring peace to the Cold War's last frontier, just a day after the Democratic People's Republic of Korea (DPRK) signed up to an international deal to disable its nuclear complex.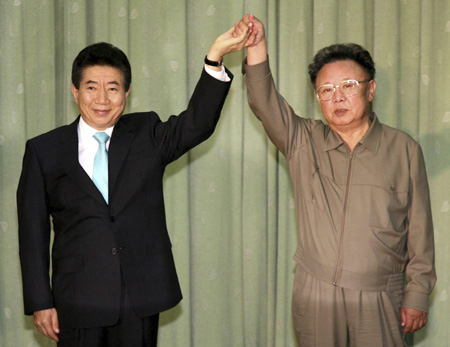 Leader of the Democratic People's Republic of Korea Kim Jong-il (R) and South Korea's President Roh Moo-hyun pose after they exchanged the joint statement in Pyongyang October 4, 2007. The leaders of the two Koreas pledged on Thursday to bring peace to the Cold War's last frontier. [Agencies]
"North (DPRK) and South Korea shared the view they must end the current armistice and build a permanent peace regime between us," South Korean President Roh Moo-hyun and DPRK top leader Kim Jong-il said in a joint statement at the end of their three-day meeting in Pyongyang on Thursday.
It is said that the two Koreas will push for talks next month with the United States and China to formally end the 1950-53 Korean War which technically is still going on because a peace treaty has yet to be signed, the Reuters reported.
The two leaders also agreed to set up the first regular freight train service, linking the two countries which are now divided by a heavily fortified border.
There will also be meetings of ministers and defense officials and the establishment of a cooperation zone around a contested offshore area west of the Korean Peninsula.
"This is an event that will open a new horizon between North and South Korea," South Kroean presidential spokesman Kim Jeong-suob told reporters in Seoul of the summit.
The summit ended a day after Pyongyang agreed to disable the three main nuclear facilities at its Yongbyon site, and provide a full declaration of all its nuclear programs before December 31, this year.
U.S. President George W. Bush was quick to praise the nuclear deal with DPRK, and Bush even held up Pyongyang as a possible model for resolving the nuclear standoff with Tehran, according to the Reuter report.
"A virtuous circle," said South Korea's Prime Minister Han Duck-soo of the combination of the summit and a nuclear deal.