The second session of the sixth round of six-party talks ended in Beijing Wednesday with a joint document released on the second-phase actions toward the denuclearization on the Korean Peninsula.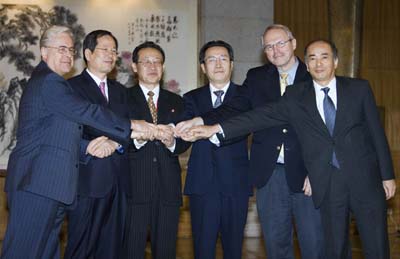 Envoys join hands while posing for a group photograph at the six-nation DPRK nuclear disarmament meeting in Beijing September 30, 2007. (L to R) Russia's Alexander Losyukov, South Korea's Chun Yung-woo, DPRK's Kim Gye-gwan, China's Wu Dawei,Christopher Hill of the US and Japan's Kenichiro Sasae. [Agencies]
Head of the Chinese delegation to the talks Wu Dawei announced the joint document after a two-day recess of the nuclear talks, which involve China, the Democratic People's Republic of Korea (DPRK), the United States, the Republic of Korea (ROK), Japan and Russia.
According the joint document, the DPRK agreed to disable all its existing nuclear facilities subject to abandonment under the September 2005 Joint Statement and the February 13 agreement this year.
It said the disablement of the five megawatt Experimental Reactor, the Reprocessing Plant (Radiochemical Laboratory) and the Nuclear Fuel Rod Fabrication Facility in Yongbyon will be completed by December 31, 2007.
The DPRK also agreed in the joint document to provide a complete and correct declaration of all its nuclear programs by the end of 2007.
The DPRK reaffirmed its commitment not to transfer nuclear materials, technology, or know-how, it said.
The document said the DPRK and the United States remain committed to improving their bilateral relations and moving towards a full diplomatic relationship and the two sides will increase bilateral exchanges and enhance mutual trust.
The DPRK and Japan also committed themselves to taking specific actions to normalize their relations expeditiously through intensive consultations between them, it said.
Economic, energy and humanitarian assistance up to the equivalent of one million tons of heavy fuel oil will be provided to the DPRK but specific modalities will be finalized through discussion by the Working Group on Economy and Energy Cooperation, it said.
China and the ROK have each delivered 50,000 tons of heavy fuel oil to the DPRK.
All parties reiterated that the Six-Party Ministerial Meeting will be held in Beijing at an appropriate time.
The second phase of the talks was scheduled to run from September 27 to 30 but an unexpected two-day recess was given to wait for the approval for a joint document by the respective governments of the six delegations.
The six parties signed a landmark agreement on February 13 when they finished the fifth round of the six-party talks.
According to the agreement, the DPRK must declare all nuclear programs and disable all existing nuclear facilities, while the other parties must provide a total of 1 million tons of heavy fuel oil or equivalent aid to the DPRK.
The first session of the sixth round of talks was held in March, which ended with a chairman's statement.