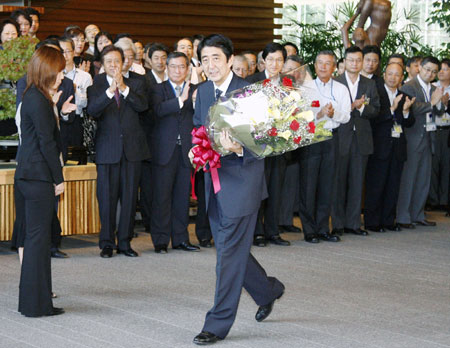 Japan's outgoing Prime Minister Shinzo Abe holds a bouquet of flowers as he is sent off by staff members of the prime minister's official residence in Tokyo September 25, 2007. Abe, who has been hospitalised since the day after he resigned for a stress-related stomach ailment, attended a final meeting of his cabinet and then received flowers as he left his official residence on Tuesday. [Reuters] 
Tokyo - Japanese Prime Minister Shinzo Abe and his Cabinet resigned en masse Tuesday morning, clearing the way for parliament to choose a new prime minister, a Cabinet minister said.
Abe, 53, stunned the nation when he announced on Sept. 12 that he wanted to quit, and checked into a hospital the following day for stress-related intestinal ailments. He was criticized for not fully explaining his decision, and for creating a political vacuum.
The outgoing premier told reporters Monday that his ailing health lay behind his surprise decision to resign, though he did not mention his condition at the time of his announcement.
"Prime Minister Abe shook hands with each of the ministers, and we sent him out with applause. It was very moving," outgoing Justice Minister Kunio Hatoyama told reporters.
Following a hastily called ballot, the ruling Liberal Democratic Party on Sunday selected Yasuo Fukuda, the 71-year-old son of a prime minister, as its new president. The position ensures his election as prime minister when parliament meets later Tuesday.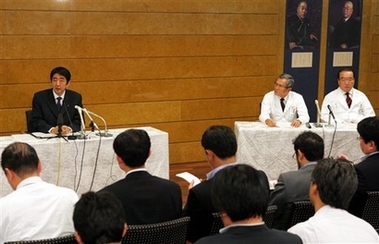 Japanese Prime Minister Shinzo Abe speaks at a nationally televised press conference at the Keio University Hospital in Tokyo Monday, Sept. 24, 2007. [AP]