LAS VEGAS - Somewhere, Kevin Federline is laughing.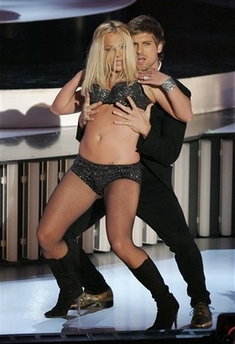 Britney Spears performs at the MTV Video Music Awards at the Palms Hotel and Casino on Sunday, Sept. 9, 2007, in Las Vegas. [AP] 
An out-of-shape, out-of-touch Britney Spears delivered what was destined to be the most talked about performance of the MTV Video Music Awards - but for all the wrong reasons. Kicking off the show Sunday night with her new single, "Gimme More," Spears looked bleary and unprepared - much like her recent tabloid exploits on the streets of Los Angeles.
She lazily walked through her dance moves with little enthusiasm. It appeared she had forgotten the entire art of lip-synching; and, perhaps most unforgivable given her once taut frame, she looked embarrassingly out of shape.
Even the celebrity-studded audience seemed bewildered. 50 Cent looked at Spears with a confused expression; Diddy, her new best friend, was expressionless.
Some comeback.
The VMAs was hoping to reinvent itself on Sunday. After suffering poor reviews and a decline in ratings over the last few years, MTV moved the show to Las Vegas' Palms Casino, shortened the show from three hours to two, and changed the show's setup to focus more on performances than awards.
To that end, Justin Timberlake and Timbaland, Kanye West, Fall Out Boy and the Foo Fighters were each hosting four separate suite parties, where much of the show's performances would be held. MTV was hoping for some unusual pairings and unscripted antics. Other performers were appearing on the show's main stage, in front of an industry-only audience seated at tables, like at the Golden Globes.
Among the stars set to perform were Chris Brown, Lily Allen, Rihanna and Alicia Keys.
The Palms' casino floor, already glittering with slot machines and blinking lights, was transformed into a dazzling red carpet, as the likes of Jennifer Hudson, Kid Rock, Paris Hilton, Jennifer Garner and a newly blond Nelly Furtado were among those who posed for the cameras.
And Nicole Scherzinger, making her solo debut from the Pussycat Dolls, gave a performance for the gawking fans, performing her new single with the rapper Lil' Wayne.