MODENA, Italy - Recordings of Luciano Pavarotti's voice boomed out in Modena's main piazza on Saturday as mourners waited to pay final respects to the tenor before an invitation-only funeral in his hometown's cathedral.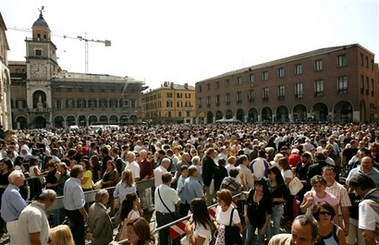 People gather outside Modena's Duomo cathedral where late Italian tenor Luciano Pavarotti is layed in state, northern Italy, Saturday, Sept. 8, 2007. [AP] 
Some well-wishers waited under the large loudspeakers erected in Piazza Grande, arms crossed and eyes closed as they listened to the voice that was as much at home on stage with rock stars as it was in the world's great opera houses.
A photo of a smiling Pavarotti graced a large-screen TV erected in the piazza, with the message: "Addio Maestro," or farewell maestro.
Pavarotti's body, dressed in a black tuxedo and with his hands holding his trademark white handkerchief, went back on view at dawn Saturday. The cathedral remained open to the public until just before the mid-afternoon start of the funeral service, which was being televised live.
"He was our Italian flag. He was the best representation that we could have," said Susy Cavallini, a 43-year-old Modena resident as she emerged from the cathedral. "Modena is known for its cappelletti (a type of tortellini), balsamic vinegar, Ferrari and Pavarotti. It's a collection of important things that Modena has given to the world."
Admirers signed a book of condolences placed by a vase of sunflowers - Pavarotti's favorite - outside the cathedral. The Foreign Ministry said similar books of condolences would be available to well-wishers around the world at Italian embassies and consulates.
He died on Thursday in his home on Modena's outskirts after battling pancreatic cancer for more than a year. He was 71 and was beloved by generations of opera-goers and pop fans, for his breathtaking high "Cs" and his hearty renditions of folk songs like "O Sole Mio," and popular tunes like "My Way."
In an indication of the outpouring of affection for Pavarotti, city officials said 87,000 memorial cards had been handed out inside the Romanesque cathedral as of Saturday morning.
Bulgarian-born soprano Raina Kabaivanska - a fellow Modena resident - and tenor Andrea Bocelli, both of whom have sung with Pavarotti, will be among those singing during the service, Modena's city hall said.
"Luciano Pavarotti did honor to Italy. Italy honors Luciano Pavarotti," said Italian President Giorgio Napolitano, as he left the cathedral Friday after viewing the body.
A child's drawing bearing the name of Pavarotti's 4-year-old daughter, Alice, was placed in a vase of roses near the tenor's head.
Among those expected to attend the funeral were former UN Secretary-General Kofi Annan; U2 lead singer Bono; Italian film director Franco Zeffirelli; the Italian premier, Romano Prodi; Stephane Lissner, general manager of Milan's La Scala Opera House, where Pavarotti appeared 140 times, once receiving boos; and the Metropolitan Opera's former general manager Joe Volpe.