LONDON -- Two-thirds of people questioned around the world want US-led troops to pull out of Iraq within a year, but fewer than half believe that they will ever leave, according to a poll published Friday.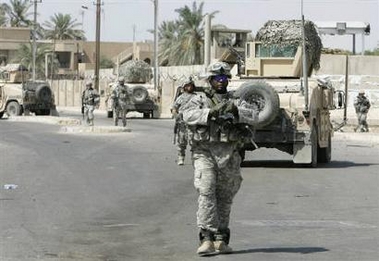 US soldiers are seen in Baghdad September 4, 2007. [Reuters]
In the BBC World Service poll of 23,000 people in 22 countries, 67 percent said they backed a troop withdrawal inside a year, while 49 percent believed the United States would permanently leave troops in the country.
Three in five Americans polled -- 61 percent -- thought US forces should leave within a year, with 24 percent favouring immediate withdrawal. Thirty-two percent said they should stay until security improves.
In some of the countries in the US-led coalition a majority supported a pullout within a year -- 65 percent of Britons, 63 percent of South Koreans and 63 percent of Australians.
In only three countries was there less than a majority for such a withdrawal -- 17 percent of Indians, 44 percent of Filipinos and 45 percent of Kenyans.
Overall only one in four -- 23 percent -- thought foreign troops should remain in Iraq until security improves, according to the global survey carried out for the BBC by polling firm GlobeScan, together with the Program on International Policy Attitudes (PIPA) at the University of Maryland in the United States.
GlobeScan President Doug Miller said the message from the study, carried out between the end of May and the end of July this year, was fairly clear.
"The weight of global public opinion, and indeed American opinion, is opposed to the Bush administration's current policy of letting security conditions in Iraq dictate the timing of US troop withdrawal," he said.
Steven Kull, director of PIPA, said: "While majorities in 19 of 22 countries polled want the US to be out of Iraq within a year, in no country does a majority think it will do so."
"It seems the US is widely viewed as planning to make Iraq part of its long term military footprint in the Middle East," he added.
The poll came after Iraq war commander US General David Petraeus hinted at US troop cuts by March, as he prepared to give crunch testimony to the US Congress next week on President George W. Bush's surge strategy.
Asked if the current 162,000-strong US presence in Iraq could be drawn down by March 2008, the general said in an interview with a US television station from Baghdad: "Your calculations are about right."