One South Korean hostage kept a hidden diary written inside her trousers, another passed out when gunmen stormed a bus and many were in constant fear for their lives, they said in an interview with Korean media on Friday.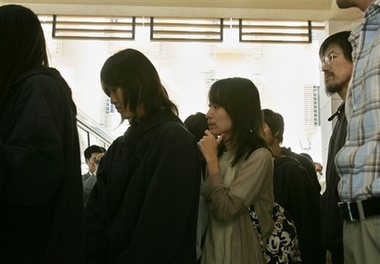 Released South Korean hostages leave the Serena hotel for the airport in Kabul, Afghanistan, Friday Aug. 31, 2007. [AP]
The 19 volunteers sent by a church in suburban Seoul have been released over the past two days after being held for about six weeks by Taliban insurgents in Afghanistan.
The freed hostages shared hugs and shed tears when they reunited in Kabul. They are expected to arrive back in South Korea early Sunday morning.
"At the begining I had writing supplies so I kept a diary, but the Taliban kept searching us and took them away," Seo Myung-hwa, 27, was quoted by Yonhap news agency as saying in an interview in Kabul.
A group of South Korean media was given access to them for their first interview since their release, but the South Korean embassy barred foreign media.
"Fortunately I was wearing white trousers so I rolled them up and started writing on July 24. I traced back memory to record what had happened before that."
The journal noted an onset of stomach trouble on August 17, eating a porridge meal made with juice the next day, and getting a chance to wash her hair three days later.
Many of the hostages talked about being separated into small groups and shuttled about in the Afghan countryside in order to avoid government troops and other military forces in the country.
One Taliban member would farm by day and then grab a rifle and stand guard over hostages at night.
Lyu Kyung-sik, 53, said the leader of the group of 23, Bae Hyung-kyu, a pastor, fainted when two gunmen boarded the bus as it passed through Ghazni province on July 19.
"We were in a state of panic," said Lyu, describing the scene of the abduction as the gunmen threatened them with the guns.
Bae was one of the two Korean hostages killed by the Taliban who disposed of their bullet-riddled bodies in ditches. Bae was killed on his 42nd birthday.
The Taliban previously released two women, who are now back in South Korea, in what they said was a gesture of goodwill.
After they were forced off the bus, the abductors split up the group and sped away on motorcycles, Lyu said. It was not until well into their captivity that he learned of Bae's death on the radio given to them by the Taliban, he said.
"I had an idea that it was Pastor Bae who was killed," Lyu said. "It may have been as a sample for what could happen."