PISCO, Peru - Rescuers combed rubble for survivors after a powerful earthquake devastated cities and sent a church's soaring ceiling tumbling down on hundreds of worshippers in southern Peru, and at least six strong aftershocks struck early Friday.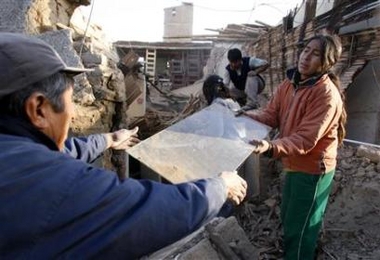 People take their belongings of their destroyed house in Ica, south of Lima August 16, 2007. Rescuers searched collapsed homes and churches in Peru on Thursday for more victims of a massive 7.9-magnitude earthquake that killed hundreds, cracked and cut off roadways and left thousands without power. [Reuters]
Officials said the death toll across the region hit by Wednesday's magnitude-8 temblor topped 500.
In the gritty port city of Pisco, searchers at San Clemente church pulled at least 60 bodies out of the ruins and lined them up on the plaza. Doctors struggled to help more than 1,500 injured, including hundreds who waited on cots in the open air, fearing more aftershocks - including a magnitude 5.9 that struck Friday morning - would send buildings crashing down.
Related readings:


500 dead in strong quake in Peru


Powerful quake kills about 500 in Peru


355 killed in Peru quake


Massive earthquake kills 337 in Peru
Peru's fire department said the death toll from the magnitude-8 quake that devastated the southern coast had risen to 510, and rescuers were still digging through ruins of collapsed adobe homes in cities and hamlets.
Destruction from Wednesday's quake was centered in Peru's southern desert, near the oasis city of Ica and nearby Pisco, about 125 miles southeast of the capital of Lima.
Hundreds had gathered in the pews of the San Clemente church on Wednesday - the day Roman Catholics celebrate the Virgin Mary's rise into heaven - for a special Mass marking one month since the death of a Pisco man.
With minutes left in the Mass, the church's ceiling began to break apart. The shaking lasted for an agonizing two minutes, burying 200 people, according to the town's mayor. On Thursday, only two stone columns and the church's dome rose from a giant pile of stone, bricks, wood and dust.
Rescuers laid out the dust-covered dead beneath bloodstained sheets in the city's plaza. Civil defense workers then arrived and zipped them into body bags. But relatives searching desperately for the missing unzipped the bags, sobbing each time they recognized a familiar face.
Few in the traumatized crowds would talk with journalists. One man shouted at the bodies of his wife and two small daughters as they were pulled from the rubble: "Why did you go? Why?"
Pisco Mayor Juan Mendoza told Lima radio station CPN, sobbing: "The dead are scattered by the dozens on the streets. We don't have lights, water, communications. Most houses have fallen. Churches, stores, hotels - everything is destroyed."
As dusk fell, Health Minister Carlos Vallejos said finding survivors seemed increasingly unlikely.
"We keep losing hope of finding someone alive after 24 hours have passed" since the quake struck, Vallejos said outside of the church.