BEIJING - The United States and North Korea have resolved a dispute over $25 million in frozen North Korean funds in a Macau bank that had threatened to hold up nuclear disarmament negotiations, a top US official said Monday.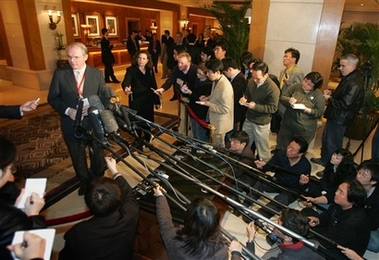 Top US nuclear envoy Christopher Hill, left, speaks to the media in Beijing, China Sunday, March 18, 2007. [AP]


Deputy Assistant Treasury Secretary Daniel Glaser said the funds would be transferred to a Bank of China account in Beijing to be used for education and humanitarian purposes in North Korea.

The North Korean deposits have been frozen in the Banco Delta Asia since Washington blacklisted the Macau-based bank 19 months ago on suspicion the funds were connected to money-laundering or counterfeiting.

Washington promised to resolve the issue by mid-March as part of an agreement last month on North Korea's nuclear disarmament. On Saturday, North Korea's nuclear envoy said Pyongyang would not shut down its main nuclear reactor until the funds were released.

"We believe this resolves the issue of the DPRK-related frozen funds," Glaser said using the acronym for North Korea's formal name, the Democratic People's Republic of Korea.

"North Korea has pledged ... that these funds will be used solely for the betterment of the North Korean people," he added.

The US nuclear envoy, Christopher Hill, said the six-party talks - which are scheduled to resume Monday - could now "move on to the next problem of which there are many."

The Feb. 13 disarmament agreement gave North Korea 60 days to shut down both its main reactor and a plutonium processing plant, allowing UN monitors to verify the shutdown.

In return, North Korea is to receive energy and economic assistance and a start toward normalizing relations with the US and Japan.

US allegations in 2002 that North Korea has a secret uranium enrichment program prompted the North to expel UN inspectors and eventually led to North Korea detonating its first nuclear device last year.