TEHRAN, Iran - President Mahmoud Ahmadinejad insisted Friday that new sanctions won't force Iran to give up its right to enrich uranium, and he blasted the UN Security Council as an instrument used by "bullying" Western nations against Tehran.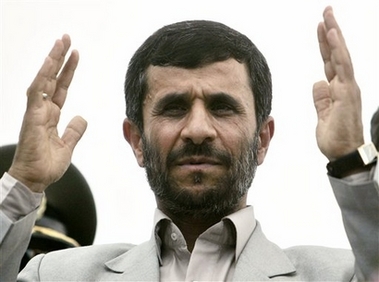 Iran's President Mahmoud Ahmadinejad gestures during a visit to the 'Cuba Libre' neighborhood in Managua, Sunday, Jan. 14, 2007. [AP]


"We have achieved the nuclear fuel cycle. We won't give it up under pressure. You can't stop the Iranian nation from this path through meetings," Ahmadinejad was quoted as saying by state media.

But even as he reiterated Tehran would pursue the controversial enrichment program, he has asked to speak before the UN's most powerful body on the day the Security Council votes on a new resolution on stepped up sanctions against his country.

Security Council members have raised no objections to Ahmadinejad's request, said South Africa's UN Ambassador Dumisani Kumalo, who holds the rotating council presidency.

"I'm assuming it's going to happen," Kumalo said.

On Thursday, the governments of the five permanent UN Security Council members and Germany agreed on a new package of sanctions against Tehran for failing to halt the enrichment which the West fears is used for nuclear arms making.

The resolution is likely to be approved unanimously after winning support of the five veto-wielding members. The full Security Council will consider the measures in coming days though no date has been set for a vote.

"Enemies have for years been creating obstacles in the way of the progress of the Iranian nation," Ahmadinejad told a gathering in the central city of Khatam. "By misusing international bodies, they seek to prevent Iran's progress."

"This nation stands united ... on its rights and won't give in one iota," the official IRNA news agency quoted him as saying.

Ahmadinejad, who has called the Security Council an "illegitimate" body, urged the United States and its allies not to use it as a political instrument against Iran.

"I advise you, it is in your interests to get back from this path. The era of bullying and coercion is over. Your behavior will only result in accumulating the revolutionary wrath of the Iranian nation," IRNA also quoted Ahmadinejad as saying in another central city, Tabas.

"Those who think they have power and capabilities and intend to impose their hegemony on other nations through bullying and selfishness are making a mistake," he added.

Ahmadinejad is touring the central province of Yazd along with members of his Cabinet this week as part of a campaign to bring the government closer to the people, according to IRNA.

| | | |
| --- | --- | --- |
| 1 | 2 | |