TEHRAN, Iran - Iran's foreign minister denied Tuesday the remark of the UN nuclear chief that his country has temporarily slowed its nuclear program, insisting that Iran's enrichment of uranium was continuing unabated.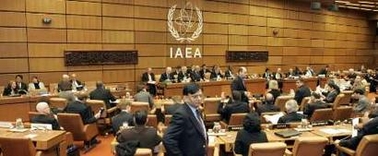 A general view at the beginning of an IAEA board of governors meeting at Vienna's UN headquarters March 6, 2007. [AP]


"Iran's legitimate activities with the aim of producing fuel ... is continuing its natural trend," Foreign Minister Manouchehr Mottaki told a press conference. "There has been no change in that course."

The head of the International Atomic Energy Agency, Mohamed ElBaradei, said Monday that Iran appeared to have at least temporarily paused on the development of its uranium enrichment program. Enriched uranium is used to fuel nuclear power stations and, taken to a higher degree, can be used in the manufacture of nuclear bombs.

Speaking to reporters in Vienna, ElBaradei said: "I do not believe that the number of centrifuges has increased, nor do I believe that (new) nuclear material has been introduced to the centrifuges (in the enrichment center) at Natanz."

The IAEA has installed cameras at the enrichment center in Natanz.

Iran's Atomic Energy Organization also said Tuesday there had been no change in the enrichment schedule.

"Iran's enrichment activities in Natanz is continuing as planned. No change has been made," the official Islamic Republic News Agency quoted the organization as saying in a statement.

The U.S. and its allies fear that Iran will use enrichment to build nuclear weapons, but Tehran insists it is enriching uranium only to have its own source of fuel for power plants.

The U.N. Security Council's permanent members and Germany are currently discussing strengthening sanctions imposed on Iran in December for its refusal to halt enrichment.