BEIJING - North Korea agreed Tuesday to take first steps toward nuclear disarmament and shut down its main reactor within 60 days before eventually dismantling its atomic weapons program.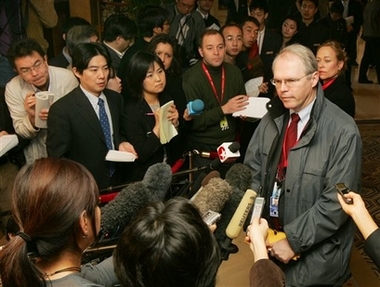 US Assistant Secretary of State Christopher Hill, right, speaks to journalists before heading out to six-party talks on North Korea's nuclear program in Beijing Tuesday, Feb. 13, 2007. [AP]


Under the deal, the North will receive initial aid equal to 50,000 tons of heavy fuel oil for shutting down and sealing its main nuclear reactor and related facilities at Yongbyon, north of the capital, to be confirmed by international inspectors.
Special coverage:
North Korea nuclear talks resume in Beijing 

Related readings:
N. Korea nuclear accord advances
N. Korea nuke talks to be extended
Energy aid holds up 6-party talks

 N.Korea ready to discuss disarmament
 N.Korea nuke talks resume amid optimism
 China retakes centre stage in nuclear talks
 Six-Party Talks to resume on February 8
 Swift return to Six-Party Talks called for
 China pushes resumption of six-party talks
 DPRK hints at flexibility in Six-Party Talks
For irreversibly disabling the reactor and declaring all nuclear programs, North Korea will eventually receive another 950,000 tons in aid.
The agreement was read to all delegates in a conference room at a Chinese state guesthouse and Chinese envoy Wu Dawei asked if there were any objections. When none were made, the officials all stood and applauded.
North Korea and United States also will embark on talks aimed at resolving disputes and restarting diplomatic relations, Wu said. The Korean peninsula has technically remained in a state of war for more than a half-century since the Korean War ended in a 1953 cease-fire.
The United States will begin the process of removing North Korea from its designation as a terror-sponsoring state and also on ending US trade sanctions, but no deadlines was set, according to the agreement. Japan and North Korea also will seek to normalize relations, Wu said.
If Pyongyang follows through with its promises, they would be the first moves the country has made to scale back its atomic development after more than three years of six-nation negotiations marked by delays, deadlock and North Korea's first nuclear test explosion in October.
Making sure that Pyongyang declares all its nuclear facilities and shuts them down is likely to prove arduous, nuclear experts have said.
North Korea has sidestepped previous agreements, allegedly running a uranium-based weapons program even as it froze a plutonium-based one - sparking the latest nuclear crisis in late 2002. The country is believed to have countless mountainside tunnels in which to hide projects.
After the initial 60 days, a joint meeting will be convened of foreign ministers from all countries at the talks - China, Japan, Russia, the United States and the two Koreas.
Under the agreement, five working groups are to meet within 30 days: denuclearization, normalization of US-North Korea relations, normalization of North Korea-Japan relations, economy and energy cooperation, and peace and security in northeast Asia.
Another meeting of the nuclear envoys was scheduled March 19 to check on the groups' progress.
In September 2005, North Korea was promised energy aid and security guarantees in exchange for pledging to abandon its nuclear programs. But talks on implementing that agreement repeatedly stalled on other issues.