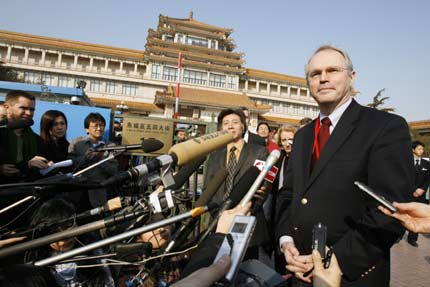 US Assistant Secretary of State and chief negotiator Christopher Hill answers a question after visiting the National Arts Museum of China during a break from the six-party talks in Beijing February 11, 2007.[Reuters]


Marathon talks aimed at ending North Korea's nuclear weapons drive have appeared to secure a major breakthrough with a joint agreement on first steps towards disarmament, according to envoys.
However, the deal still needed final approval from the governments of each of the six nations involved -- host China, the two Koreas, the United States, Japan and Russia -- and could yet fall apart, they warned.
Special coverage:
North Korea nuclear talks resume in Beijing 

Related readings:
N. Korea nuclear accord advances
N. Korea nuke talks to be extended
Energy aid holds up 6-party talks

 N.Korea ready to discuss disarmament
 N.Korea nuke talks resume amid optimism
 China retakes centre stage in nuclear talks
 Six-Party Talks to resume on February 8
 Swift return to Six-Party Talks called for
 China pushes resumption of six-party talks
 DPRK hints at flexibility in Six-Party Talks
Following 16 hours of gruelling negotiations in Beijing that finished at 2:00 am on Tuesday, envoys said China had circulated a draft joint statement outlining the initial actions Pyongyang would take to end its nuclear drive and the economic rewards it would receive in return.
US chief envoy Christopher Hill described the draft agreement as "excellent", and said he hoped China would be able to release a confirmed accord following one final round of meetings on Tuesday.
While Hill and other envoys did not specify the details, they made it clear that North Korea would be given rich incentives in terms of oil and other energy aid if it began disarming.
"North Korea will get rewarded... as it moves towards the dismantling of its nuclear programmes," South Korean negotiator Chun Yung-Woo said.
South Korea's Yonhap news agency said the deal involved North Korea disabling its five-megawatt Yongbyon nuclear reactor and other atomic facilities within the next two months.
In return it would receive alternative energy equivalent to one million tonnes of heavy fuel oil each year, Yonhap reported.
The tentative agreement came just four months after North Korea conducted its first atomic test -- an event that triggered United Nations sanctions and breathed new urgency into the six-party forum that began in 2003.
The fifth day of the current round of talks began early Monday with Hill saying he was not prepared to bargain any further and North Korea refusing to give more ground on its demands for oil and other incentives.
But amid fears the six-nation forum could collapse entirely if a deal was not reached, envoys bunkered down for the last-chance negotiations.
Hill said North Korea, like the other five nations in the forum, had compromised on its position during Monday's marathon session.
"It was a long day -- lot of effort by a lot of people," a weary-looking Hill said in a 3:00 am press conference in the lobby of his hotel. "I think we made a lot of progress."
South Korea's Chun said North Korean envoy Kim Kye-Gwan had agreed to all the details in the joint statement ahead of China circulating it for final approval.
"We, the delegates, have agreed on the initial steps for North Korea to take for its denuclearisation," Chun told reporters.
"North Korea has agreed to the wording and all the figures stipulated in it."
Nevertheless, Chun, Hill and Japanese envoy Kenichiro Sasae all cautioned there was still no guarantee the deal would get the final green light.
"We are not done. This is essentially some initial action so we have got a long way to go," Hill said.
Indeed, Hill said Tuesday's deal was based on a six-party agreement made in September 2005 in which North Korea agreed to give up its nuclear weapons programme in return for security guarantees, energy benefits and other aid.
That agreement fell apart two months later over North Korean objections to unrelated US sanctions imposed against it for alleged money laundering and counterfeiting -- and Pyongyang then conducted its nuclear test last October.
Japanese Prime Minister Shinzo Abe also flagged further obstacles to be overcome on Tuesday, saying his country would not fund the new deal due to an unresolved row over the North's past kidnappings of Japanese citizens.
"Japan cannot provide energy supplies because of the abduction issue, even though Japan understands the framework of discussions which is to nudge North Korea to take actions for abandoning its nuclear (weapons)," Abe said in Tokyo.