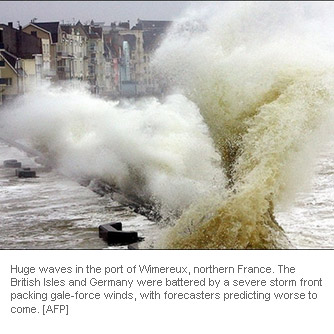 BERLIN - Europeans labored Friday to restore services across the continent after hurricane-force winds felled trees, brought down power lines and damaged buildings, killing at least 41 people and disrupting travel for tens of thousands.
Related readings:


Storm leaves three dead in London


At least 27 killed as storms lash N.Europe


Deadly storms batter north Europe

Berlin's new main train station was shut down after a two-ton girder fell from the side of the glass facade onto an outdoor staircase. The train station was evacuated after the beam plummeted 130 feet Thursday night, but there were no injuries.

"I can see maybe the glass falling, but not the steel," said 38-year-old electrician Thomas Mueller who had stopped by the downtown station to survey the damage. "They just built this thing eight months ago."

Virtually the entire German national railway system was shut down during the storm, with trees over many tracks and overhead power lines down, and services were being restored gradually on Friday.

"We've never had such a situation in Germany," Deutsche Bahn CEO Hartmut Mehdorn said.

Tens of thousands were left without power in Germany, Poland and Austria, and more than 1 million homes had no electricity in the neighboring Czech Republic, which was hit by winds of up to 112 mph.

The storm led to the deaths of at least three people in the Czech Republic, 10 in Germany, 13 in the United Kingdom, six in the Netherlands, one in France, two in Belgium and six in Poland.

Most of the people killed were motorists, but in Germany they also included two firefighters - one hit by a falling tree and the other dying of a heart attack - and an 18-month old infant in Munich hit by a terrace door that was ripped from its hinges.

In London, a toddler was killed when a brick wall was knocked over by the wind and collapsed on him.

As winds calmed Friday, airports reported some delays and cancellations but in general a return to normalcy.

Frankfurt Airport reported that flights were again departing regularly after some morning delays and 200 cancellations on Thursday.

National carrier Lufthansa canceled 331 flights Germany-wide on Thursday, affecting nearly 19,000 passengers, but intercontinental flights were largely on time again Friday, spokesman Thomas Jachnow said.

British Airways canceled 34 incoming flights to London's Heathrow and Gatwick airports and the two main London to Scotland rail routes ran much-reduced services.

Eurostar running full service again, after one early Paris-to-London train was canceled. Meanwhile, London Bridge train station was reopened after being closed after part of the station's forecourt roof collapsed.

British train firms warned of delays through the day as repairs were carried out.

Thousands of Dutch commuters were stranded overnight when the railroad service suspended all trains because of obstructions to the tracks and downed power cables.

By early Friday, trains were running again in most of the country after engineers worked through the night to clear tracks and repair the power cables, Prorail, the company that manages Dutch railroads, said in a statement.

In Germany, subways, trams and buses were largely back in service, but only a few long-distance trains were running.

"Bringing the service back is like a puzzle - it goes bit by bit and we're now at the first pieces," railway spokesman Martin Walden said.

Track-clearing work was expected to last at least through the day, and passengers were advised to cancel all unnecessary trips.

The German Weather Service said the storm was the strongest to hit the country since 1999. The highest winds were felt in the southern state of Bavaria, where gusts of up to 202 kph (126 mph) were recorded.

Schools around much of the country, which had closed early on Thursday, resumed classes, though those in Bavaria and parts of Hesse and Lower Saxony remained shut down, largely because of problems transporting students.