Deadly storms batter north Europe
(Agencies)
Updated: 2005-01-10 09:24
Powerful winds and heavy rain swept across northern Europe overnight from Britain to Russia, leaving at least 13 dead by Sunday, inundating areas of Britain, suspending key air and sea transport and leaving hundreds of thousands of homes without power.
Key bridges and airports were temporarily closed, and rail and ferry traffic badly disrupted. High water in the Russian port city of St. Petersburg forced the closure some subway stations.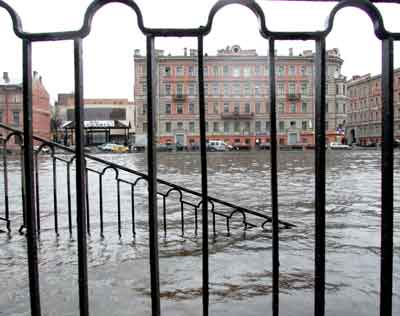 Flood water covers the central street of St.Petersburg, January 9, 2005. Waters of the Neva river rose overnight 2.39 meters above the normal level due to weather conditions in the Baltic Sea. [Reuters]

The storm was one of the worst to hit Scandinavia in years, with winds clocked in some areas at more than 121 kilometers, or 75 miles, per hour, meteorologists said.

At least six people died in Sweden, including two whose cars were hit by falling branches, the police and rescue officials said. One motorist died in Denmark when a tree crashed onto his car in Odense, west of Copenhagen, and three others were killed by debris and falling trees.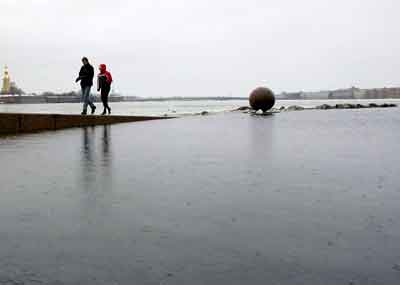 People walk along a flooded section of the Neva river embankment in St.Petersburg, January 9, 2005. [Reuters]

Severe gales battered north Britain, and heavy rains caused serious flooding, particularly in the northwest county of Cumbria, where the city of Carlisle was cut off by the swollen River Eden, and people climbed to upper stories to escape the rising floodwaters.

The police asked boat owners to help them reach Carlisle residents, and military helicopters were called in to lift about a dozen people from rooftops.

"We've rescued a 90-year-old man. We've had a family including a young baby rescued out of an upstairs window," said a Royal Air Force spokesman.

Three people were reported dead in the Carlisle area, but details of the deaths were not immediately released. At least one other person was reported swept away in a swollen river in Yorkshire county, northern England.

Gusts up to 145 kilometers per hour were reported, and many trucks overturned on highways.

The P&O European Highlander ferry ran aground Saturday off the southwest coast of Scotland after a stormy crossing from Northern Ireland.

In the German state of Schleswig-Holstein, winds damaged houses and forced the shutdown of train and ferry links and highway bridges. Two 20-year-old men, whose kayak capsized on a lake near the town of Landwedel, were missing, the police said.

In St. Petersburg, on the Gulf of Finland, some streets were flooded and six subway stations were shut Sunday morning because water levels on the gulf were dangerously high, a city emergency official said. Three stations were reopened after the water level receded somewhat, he said.

The water reached 240 centimeters, or 8 feet, above normal levels before receding to 210 centimeters, he said, explaining that 150 centimeters is considered critical.

The water in the Neva River and the canals of the former Imperial capital appeared about 2 meters, or 7 feet, higher than normal, reaching within about two feet of street level, while docks for riverboats and steps leading down to the river were flooded.

In Finland, sea levels reached record highs, cutting off several coastal roads, but no major damage was reported. Rescue teams piled thousands of sandbags and large bales of recycled paper on the waterfront in central Helsinki near the president's palace where the sea rose 1.5 meters above normal levels onto the streets and market place.

More than 400,000 Swedish households were without power Sunday morning, the authorities said. In Denmark, about 60,000 households lost electricity.




Today's Top News
Top World News

Securities reforms to lift exchanges




China to revamp disaster warning system




Palestinians elect Abbas by wide margin




Taiwan group to talk on holiday flights




Pollution worsens in China's sea waters




Sex advice on menu at Shenzhen cafe bar