SULEIMANIYAH, Iraq - Iraqi President Jalal Talabani said Wednesday the government should delay the execution of two of Saddam Hussein's co-defendants.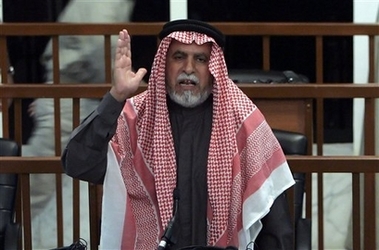 Awad Hamed al-Bandar, head of Iraq's former revolutionary court, chants 'God is Great' while being sentenced to death during his trial held under tight security in Baghdad's heavily fortified Green Zone, in this Sunday Nov. 5, 2006 file photo. [AP]


Saddam's half brother and former intelligence chief, Barzan Ibrahim, and Awad Hamed al-Bandar, former head of Iraq's Revolutionary Court, were sentenced to death with Saddam.
They were found guilty, along with the former Iraqi leader, of involvement in killing 148 Shiite Muslims after a 1982 assassination attempt on the former leader in the northern town of Dujail.
Special coverage:
Saddam Hussein Hanged

Related readings:
Iraq orders probe of Saddam execution
Military nurse recalls softer Saddam Saddam buried in Iraq hometown
Timing of Saddam execution risks Arab backlash
Saddam had feisty exchange at gallows
Saddam compliant, calm in final moments
TV footage shows Saddam's body
World leaders welcome, condemn Saddam's execution
"In my opinion we should wait on the executions," Talabani said Wednesday at a news conference with US Ambassador to Iraq Zalmay Khalilzad. "We should examine the situation," he said without elaborating.

Ibrahim and al-Bandar were originally scheduled to be executed with Saddam on Dec. 30. Their executions were postponed, however, until after the Muslim holiday of Eid al-Adha, which ended a week ago.

Iraqi officials have said the two men were expected to be hanged in the coming days, but no date has been released. Talabani said he did not know when Ibrahim and al-Bandar would be hanged.

Saddam's execution devolved into an unruly scene that brought worldwide criticism of the Iraqi government. Video of the execution, recorded on a cell phone camera, showed the former dictator being taunted on the gallows.

On Tuesday, Prime Minister Nouri al-Maliki said that Khalilzad asked him to delay Saddam's execution for 10 days to two weeks, but added that Iraqi officials rejected the demand.