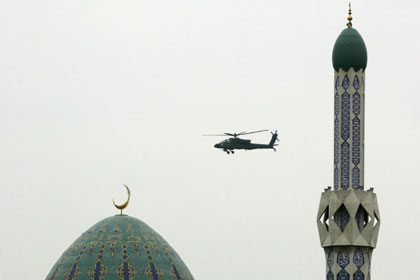 A US helicopter hovers over Haifa Street in Baghdad January 9, 2007. US fighter jets screamed over the city with unusual intensity and military helicopters were seeing hovering above Haifa Street, a stronghold of the Sunni Arab insurgency, witnesses said. [Reuters]


WASHINGTON - A first wave of additional US troops will go into Iraq before the end of the month under President Bush's new war plan, a senior defense official said Tuesday. Congressional Democrats kept up their criticism of plans to add soldiers in the unpopular conflict.
Special coverage:
Saddam Hussein Hanged

Related readings:
Iraq orders probe of Saddam execution
Military nurse recalls softer Saddam Saddam buried in Iraq hometown
Timing of Saddam execution risks Arab backlash
Saddam had feisty exchange at gallows
Saddam compliant, calm in final moments
TV footage shows Saddam's body
World leaders welcome, condemn Saddam's execution
Up to 20,000 troops will be put on alert and be prepared to deploy under the president's plan, but the increase in forces on the ground will be gradual, said the official, who requested anonymity because the plans have not yet been announced.

Details were emerging a day before Bush was to address the nation on his broad initiative to shore up the fragile country after nearly four years of bloodshed. Bush is expected to link the troop increase to moves by the Iraqi government to ease the country's murderous sectarian tensions, and to increased US economic aid.

Moving first into Iraq would be the 2nd Brigade, 82nd Airborne Division, which is in Kuwait and poised to move quickly into the country, the defense official said.

Carl Levin, a Michigan Democrat who chairs the Senate Armed Services Committee, said he expects Bush to announce that up to 20,000 additional troops will be sent to Iraq but not to say how long the extra forces will be there.

Levin, who spoke to reporters a day after meeting with White House national security adviser Stephen Hadley, said he believes Bush will signal that the overall US commitment in Iraq is not open-ended.

Bush is expected to link the troop increase to promised moves by the Iraqi government such as curbing Shiite militias that have terrorized the Sunni minority, enacting a plan to distribute oil revenue to the country's sects and easing government restrictions on members of former Iraqi leader Saddam Hussein's Baath Party.

The added US troops are also expected to be linked to a requirement that the Baghdad government commit more money toward reconstruction and send more of its own troops into the fight, Sen. John Cornyn, R-Texas, said Tuesday. Cornyn, a Bush loyalist who recently met with the president to discuss Iraq, said he believes these conditions were suggested by the Iraqi government.

There are currently about 132,000 US troops in Iraq. Much of the increase would come from speeding up the timetable for sending some forces already scheduled to go to the country, and keeping others there who were about to leave, the defense official said.

The extra forces would be sent to Baghdad, which has been consumed by sectarian violence, and the western Anbar Province, a base of the mostly Sunni insurgency and foreign al-Qaida fighters, Sen. Kay Bailey Hutchison, R-Texas, and others said following a White House session with Bush.

A day before Bush's nationally televised speech, Sen. Edward Kennedy, a longtime critic, proposed legislation that would deny the president the billions needed to send more troops unless Congress agreed first. Though it was unclear whether the bill would ever reach the full Senate, it could serve as a rallying point for the most insistent foes of the Iraq conflict.

White House press secretary Tony Snow said the president was still listening to ideas from lawmakers.

"What I'm saying is the president still continues to have an open mind because this is a way forward. This is not, 'Wave a wand and it's going to happen,'" Snow said.

He conceded that Bush has a challenge in persuading a war-weary public.

"The president will not shape policy according to public opinion, but he does understand that it's important to bring the public back to this war, and restore public confidence and support for the mission," Snow said.

In the House, Rep. Marty Meehan, D-Mass., introduced a resolution urging the president not to send additional troops. The resolution also asks that the president seek Congress's permission if he wants to raise levels beyond 132,000.

Senate Democrats were planning to bring to the floor next week a nonbinding measure that would urge the president not to send more troops. The resolution, which Democrats said they hoped would win support from some Republicans, would not force the president's hand on Iraq or try to cut money for troops, they said.

Sen. Harry Reid said he did not believe Democrats would need to do more to twist the president's arm.

"I really believe that if we can come up with a bipartisan approach to this escalation it will do more to change the direction in Iraq than anything else we can do," Reid, D-Nev., told reporters.