UN Secretary-General Ban Ki-moon called on Iraq on Saturday to suspend the execution of "those whose death sentences may be carried out in the near future," his spokesperson said.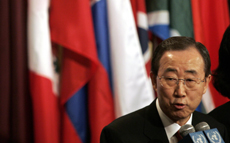 UN Secretary-General Ban Ki-moon.

"The Secretary-general strongly urged the Government of Iraq to grant a stay of execution to those whose death sentences may be carried out in the near future," said a statement issued by the office of Ban's spokesperson.

The statement came a week after the execution of former Iraqi president Saddam Hussein for killing nearly 150 Shiites following a 1982 assassination attempt against Saddam in a town north of Baghdad.
Special coverage:
Saddam Hussein Hanged

Related readings:
raq orders probe of Saddam execution
Military nurse recalls softer Saddam Saddam buried in Iraq hometown
Timing of Saddam execution risks Arab backlash
FM spokesman comments on Saddam's execution title 1
Saddam had feisty exchange at gallows
Saddam compliant, calm in final moments
TV footage shows Saddam's body
World leaders welcome, condemn Saddam's execution
Ban's chief of staff, Vijay Nambiar, sent a letter to Iraq's permanent representative to the United Nations, reiterating Ban's endorsement of a call made last Wednesday by the UN High Commissioner for Human Rights, Louise Arbour, for restraint in carrying out death sentences imposed by the Iraqi High Tribunal, the statement said.

The letter also refers to Ban's view that "all members of the international community should pay due regard to all aspects of international humanitarian and human rights laws," the statement added.

Arbour appealed to Iraqi President Jalal Talabani not to execute two Saddam co-defendants -- Barzan Ibrahim, Saddam's half brother and former intelligence chief, and Awad Hamed al-Bandar, former head of Iraq's Revolutionary Court.

Saddam's hanging drew mixed reaction from around the world. Some hailed the execution, but others questioned the legal procedures under which the sentence had been carried out and the timing of the execution.

On Saturday, Iraqi Prime Minister Nuri al-Maliki threatened to review ties with countries that criticized Saddam's hanging.

"The Iraqi government could be obliged to review its relations with any state that fails to respect the wish of the Iraqi people," Maliki warned on the occasion of the Army Day, saying Saddam had received a fair trial and that his execution was a "domestic affair."