BAGHDAD, Iraq - Backed by tanks, British soldiers raided a police station in the southern city of Basra on Monday, killing seven gunmen in an effort to stop renegade Iraqi officers from executing their prisoners, the British military said.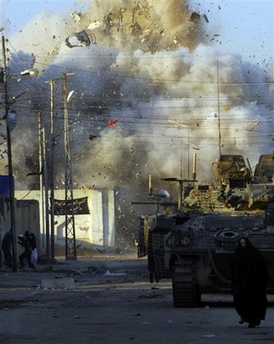 This image provided by the British Army shows the Jameat police station in Basra, Iraq, Monday, Dec. 25, 2006 being destroyed in an explosion by British troops following a raid. [AP]

Another US soldier died in southern Baghdad, meanwhile, raising the death toll for American troops in Iraq to 2,972 ¡ª one less than the number of people killed in the Sept. 11, 2001, attacks.

After the British stormed the Basra police station, they removed the prisoners, who showed evidence of torture, then evacuated the building before blowing it up.

The operation showed how closely aligned some police units are with militias and death squads ¡ª and the challenges coalition forces face as they transfer authority for security to Iraqis.

In Baghdad, police found 40 bodies, apparent victims of sectarian violence. A car bomb exploded beside a market and a suicide bomber struck a bus in separate attacks that killed 14 civilians and wounded at least 33.

In the Basra raid, the British set out to arrest officers with the station's serious crimes unit who were suspected of involvement with Shiite death squads. Seven members of the rogue police unit were apprehended three days ago in other raids, said a British spokeswoman, Royal Navy Lt. Jenny Saleh.

"We had intelligence to indicate that the serious crimes unit would execute its prisoners in the coming days, so we decided to intervene," Saleh said.
Special coverage:
Escalating Violence in Iraq

Related readings:
7 killed in raid on Iraq police station
6 US troops die in bloody Iraq weekend
Top Shiite cleric balks at plan for Iraq
Gunmen slay Iraqi intelligence officer
US death toll nears 3,000 in Iraq
US Marines charged in 24 Iraqi killings
British troops were fired on as they approached the station and their return fire killed seven gunmen, said Maj. Charlie Burbridge, another British military spokesman.

British and Iraqi forces transferred all 76 prisoners at the station to another facility in downtown Basra, he said. Some prisoners had "classic torture injuries" such as crushed hands and feet, cigarette and electrical burns and gunshot wounds in the knees, Burbridge said.

The British demolished the building in an effort to disband the unit. "We identified the serious crimes unit as, frankly, too far gone," Burbridge said. "We just had to get rid of it."

The unit's members, he alleged, were involved in tribal and political feuds in southern Iraq, which is mostly Shiite. They were not, he said, engaged in the kind of sectarian reprisal killings that have terrorized mixed neighborhoods of Baghdad.

Most of Britain's 7,200 troops in Iraq are based in the Basra area.

Mohammed al-Askari, a spokesman for Iraq's Defense Ministry, said the operation was coordinated with the Iraqi government. "Multinational forces got approval for this raid from this ministry and with participation of the Iraqi army," he said.

US Army Lt. Gen. Martin Dempsey, who is in charge of training Iraqi forces, said in Washington last week that efforts were under way to weed out Iraqi national police believed to be sympathetic to the militias.

Up to a quarter are thought to be aligned with the militias, which are engaged in sectarian violence.

The establishment of a viable Iraqi police force is vital to the US-led coalition's goal of handing responsibility for security to Iraqis, so foreign troops can return home.

In another sign of lawlessness in Basra, gunmen on Monday robbed $740,000 from a bank about half a mile from the raided police station.

| | | |
| --- | --- | --- |
| 1 | 2 | |