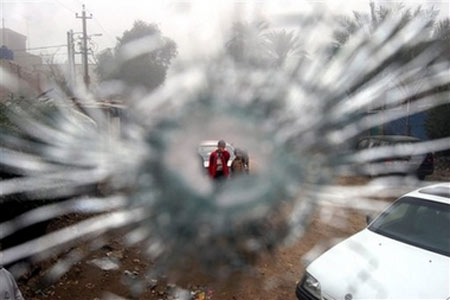 Iraqi boys are seen through shattered glass in Baghdad's Sadr City, Iraq, Friday, Dec. 22, 2006, after a US and Iraqi army raid on the neighborhood. The joint forces raid resulted in two suspects being detained and four people wounded, including two children, police said. [AP]
Baghdad - An Iraqi military intelligence officer was slain in a drive-by shooting on Saturday south of Baghdad, police said.
Gunmen attacked 1st Lt. Hussein Jabir at 7:30 a.m. as he was leaving his home in downtown Diwaniyah, 80 miles south of Baghdad, police said.
Also Saturday, US-led forces killed one person and detained nine other suspects in a raid on a militant hideout in Ramadi, west of Baghdad, the US military said.
"Intelligence reports indicated terrorists with ties to the al-Qaida in Iraq network were operating in the targeted building," the military said in a statement.