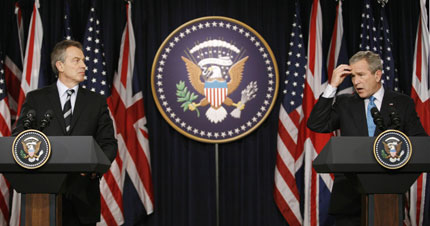 U.S. President George W. Bush and British Prime Minister Tony Blair (L) speak to reporters after their meeting at the White House in Washington December 7, 2006. The two leaders met to consider the future course in Iraq a day after a report said the current U.S. military and diplomatic strategy was not working. [Reuters]



WASHINGTON - US President George W. Bush rebuffed key recommendations from the Iraq Study Group but announced a new Middle East peace push after talks with British Prime Minister Tony Blair.

A day after receiving the heavyweight US commission's report on Iraq, Bush said that Blair would soon travel to the region for talks with Israel and the Palestinians, and promised "concerted efforts to advance the cause of peace."

The prime minister's visit was to set the stage for US Secretary of State Condoleezza Rice, in early 2007, to make her eighth trip in two years to Israel and the Palestinian territories, her spokesman said.

"By moving this forward we send a very strong signal not just to the region, but to the whole of the world, that we are even-handed and just in the application of our values," said Blair.

Bush, giving a cool reception to two key proposals by the Iraq Study Group, kept tight conditions on any talks with Iran and Syria and refused to endorse the panel's call for withdrawing most US combat troops by early 2008.

"I've always said we'd like our troops out as fast as possible," he said, while insisting on the need to be "flexible and realistic" and tying any change in troop level to advice from US military commanders, as he has in the past.

Bush initially described soaring violence in Iraq, which the report warned may spiral into a regional war even with a US strategic overhaul, as merely "unsettling" -- but revised his diagnosis when a reporter challenged him.

"It's bad in Iraq. That help?" he countered. "You want frankness? I thought we would succeed quicker than we did. And I am disappointed by the pace of success."

Bush lavished praise on the Iraq Study Group, calling its report "worthy of serious study," declaring that "the American people expect us to come up with a new strategy to achieve the objective," and stressing: "We need a new approach."

But he cautioned that the panel's review, led by former secretary of state James Baker and former representative Lee Hamilton, was one of many, citing pending reviews by the defense and state departments and the National Security Council.

Bush said he would make a speech outlining his strategy "after I get the reports," a move the White House says will come in weeks.

"I don't think Jim Baker and Lee Hamilton expect us to accept every recommendation," he said. "I know they expect us to consider every recommendation; that we ought to pay close attention to what they advise."

The report, which warns that the situation in Iraq is "grave and deteriorating," called for most US combat troops to be withdrawn by early 2008, more talks with Iran and Syria, and a new Middle East peace effort.

Bush said Damascus and Tehran might be welcome if they renounce support for extremists and pledge support for Baghdad's fledgling government, otherwise "they shouldn't bother to show up."

Bush also reiterated his longstanding condition that Iran freeze sensitive nuclear work before any direct talks.

"Should they agree to verifiably suspend their (uranium) enrichment, the United States will be at the table with our partners," he said, telling Tehran: "There's no need to continue this obstinance."

Bush and Blair also had been expected to discuss efforts to boost NATO troop levels in Afghanistan, plans to shore up an international peacekeeping force in Sudan's Darfur province and trans-Atlantic relations, US officials said.

The meeting followed the November 7 US legislative elections, in which Bush's Republican Party lost control of Congress to the opposition Democrats, and the departures of Defense Secretary Donald Rumsfeld and UN Ambassador John Bolton -- both Iraq war hawks.