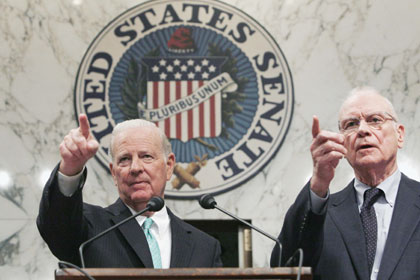 Co-chairmen of the Iraq Study Group former U.S. Secretary of State James Baker (L) and former Rep. Lee Hamilton (D-IN) hold a news conference on recommendations on the Iraq war on Capitol Hill in Washington, December 6, 2006. [Reuters]



WASHINGTON - US President Bush's war policies have failed in almost every regard, the bipartisan Iraq Study Group concluded Wednesday, and it warned of dwindling chances to change course before crisis turns to chaos with dire implications for terrorism, war in the Middle East and higher oil prices around the world.

Nearly four years, $400 billion and more than 2,900 US deaths into a deeply unpopular war, violence is bad and getting worse, there is no guarantee of success and the consequences of failure are great, the high-level panel of five Republicans and five Democrats said in a bleak accounting of US and Iraqi shortcomings.

It said the United States should find ways to pull back most of its combat forces by early 2008 and focus US troops on training and supporting Iraqi units. The US should also begin a "diplomatic offensive" by the end of the month and engage adversaries Iran and Syria in an effort to quell sectarian violence and shore up the fragile Iraqi government, the report said.

It followed by a day the sobering appraisal of Robert Gates, who was confirmed Wednesday as Bush's new Pentagon chief, that the United States is not winning in Iraq.

"Despite a massive effort, stability in Iraq remains elusive and the situation is deteriorating," the independent report said. "The ability of the United States to shape outcomes is diminishing. Time is running out."

The group's recommendations do not endorse either the current White House strategy of staying put in Iraq or calls from Bush's political opponents for a quick pullout or a firm timetable for withdrawal.

"The report is an acknowledgment that there will be no military solution in Iraq. It will require a political solution arrived at through sustained Iraqi and region-wide diplomacy and engagement," said Sen. Chuck Hagel, R-Neb.

Incoming House Speaker Nancy Pelosi, D-Calif., and other Democrats said the ball is in Bush's court.

"If the president is serious about the need for change in Iraq, he will find Democrats ready to work with him in a bipartisan fashion to find a way to end the war as quickly as possible," Pelosi said.

The Iraq panel's leaders said they tried to avoid politically charged language such as "victory," on the one hand or "civil war" on the other, but the words they chose were still powerful. The report says the current strategy is not working and lays out example after example where it has come up short.

As if to underscore that the conflict is hurtling out of control, the military reported that 10 American troops were killed Wednesday, adding to the toll of US forces who have died since the invasion that toppled Saddam Hussein in early 2003. The United States has about 140,000 troops in the country.

"We do not recommend a stay-the-course solution," said James A. Baker III, the former secretary of state and Bush family adviser who co-chaired the commission. "In our opinion, that approach is no longer viable."

| | | |
| --- | --- | --- |
| 1 | 2 | |