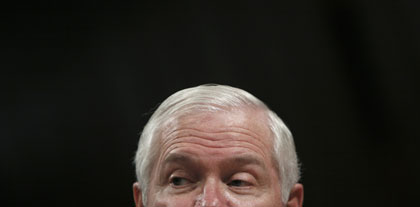 U.S. Defense Secretary nominee Robert Gates testifies before the U.S. Senate Armed Services Committee during his confirmation hearing on Capitol Hill in Washington December 5, 2006. [Reuters]


WASHINGTON - Robert Gates, seemingly clinching confirmation as the new secretary of defense, said Tuesday the United States is not winning in Iraq and he's confident President Bush will listen to his ideas about forging a new war strategy.

He won speedy and unanimous approval from the Senate Armed Services Committee after five hours of testimony, a bipartisan show of support that suggested how eager many lawmakers are to replace Donald H. Rumsfeld at the Pentagon. The full Senate could seal Gates' confirmation as early as Wednesday.

"In my view, all options are on the table, in terms of how we address this problem in Iraq," he told the committee. But he also acknowledged the complexity of the challenge.

"There are no new ideas on Iraq," he said during a discussion of the bipartisan Iraq Study Group, which previewed its findings and recommendations to President Bush Tuesday and will release them Wednesday. Gates was a member of the group until Bush announced his nomination for the Pentagon job last month.

The senators voted 24-0 to support the nomination to replace Rumsfeld, who has become a symbol of the Bush administration's steadfast course in a war that has long since soured with the public and much of the world.

"I voted yes because in both the substance of his answers and the tone of his answers, he seemed open to course correction," said Carl Levin, D-Mich., who will be the committee's chairman when Democrats take control of the Senate next month.

During his appearance, Gates would not commit to any specific new course of action in the conflict. He said he would consult first with commanders and others.

Asked directly by Levin whether the US is winning in Iraq, Gates replied, "No, sir." That response appeared to contradict Bush, who said at an Oct. 25 news conference, "Absolutely, we're winning."

Gates later said he believes the United States is neither winning nor losing, "at this point."

His statements on the war -- and his professed openness to change -- underscored pressures heaped on Bush since Democratic victories in last month's congressional elections, votes widely read as a rejection of the administration's steadfast course in the war.

Unrelenting violence by insurgents and between ethnic groups, and a US death toll that has soared past 2,900, have raised questions about the effectiveness of Iraq's government. Bush in recent weeks has expressed a willingness to consider a fresh course in the war, but has shown no sign of a willingness to heed Democratic calls to start withdrawal of the 140,000 US troops.

Bush has said he wants to keep US forces there until Iraq is able to govern and defend itself without being a haven for terrorists.

"It seems to me that the United States is going to have to have some kind of presence in Iraq for a long time ... but it could be with a dramatically smaller number of US forces than are there today," Gates said.

Iraq dominated the hearing, which began with Gates saying, "I am under no illusion why I am sitting before you today -- the war in Iraq." Without mentioning Rumsfeld by name, Gates made clear that he hopes to find a strategy that is more effective in Iraq than the current Pentagon approach.

| | | |
| --- | --- | --- |
| 1 | 2 | |