BAGHDAD, Iraq - Sunni, Shi'ite and Kurdish leaders called Sunday for an end to Iraq's sectarian conflict and vowed to track down those responsible for the war's deadliest attack.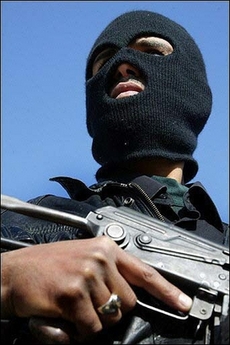 A Shi'ite Iraqi al-Mahdi army militiaman, affiliated to Shi'ite firebrand cleric Moqtada al-Sadr, stands guard in a cemetery in the holy city of Najaf, central Iraq. [AFP]


But as they went on national television to try to keep Iraq from sliding into an all-out civil war, fighting between Iraqi security forces and Sunni Arab insurgents raged for a second day in Baqouba, the capital of Diyala province north of Baghdad.

By the end of the day, the province's latest casualty figures were a microcosm of the brutality in Iraq: 17 insurgents killed, 15 detained, 20 civilians kidnapped and three bodies found. The mayor of a municipality also narrowly escaped an assassination attempt that killed one of his guards and wounded three.

During Saturday's fighting in Baqouba, police killed at least 36 insurgents and wounded dozens after scores of militants armed with assault rifles and rocket-propelled grenades attacked government buildings in the city center, police said. The fighting raged for hours in the city, about 35 miles northeast of Baghdad.

Also Saturday, a US soldier was killed and two were wounded when a roadside bomb exploded near their vehicle in Diyala province, the military said.

Officials including Defense Minister Abdul-Qader al-Obaidi and Gen. George Casey, the top US commander in Iraq, decided Saturday to fire Diyala's police commander, saying he was unable to stop infiltration of the force by Sunni insurgents, two Iraqi officials said on condition of anonymity as is often the case in areas subjected to widespread fighting and revenge killings.
Special coverage:
Iraq After War

Related Readings:
Iraq attack death toll rises to 202
Bush still to meet with Iraqi PM
Syria-Iraq resume diplomatic ties
Assassins kill 2 in Iraq; 20 die overall
Kissinger: Iraq military win impossible
Iraq faces 'critical times' - British minister
Bush: Viet Nam War lessons for US
One of the main challenges for US-led forces in recruiting and training Iraqi military and police forces is that they are often infiltrated by insurgents who kill and kidnap in disguise.
"We promise the great martyrs that we will chase the killers and criminals, the terrorists, Saddamists and Takfiri (Sunni extremists) for viciously trying to divide you," Shi'ite Prime Minister Nouri al-Maliki, Sunni Parliament speaker Mahmoud al-Mashhadani and Kurdish President Jalal Talabani said in their joint statement on state-run TV.
In addressing "the great martyrs," they were referring to the 215 people who died when suspected Sunni insurgents attacked Sadr City, the capital's main Shiite district, on Thursday.