BAGHDAD - With Saddam Hussein hours from learning whether he will hang, Iraq's government imposed curfews on Sunday and has canceled army leave, fearing the historic trial verdict might trigger fresh sectarian bloodletting.
As Baghdad went into lockdown overnight, mortars slammed into the mainly Sunni district of Adhamiya, killing seven people and wounding 20, an Interior Ministry source said.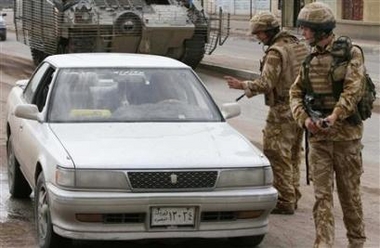 British soldiers stop a motorist at a checkpoint in Basra, 550km (340 miles) south of Baghdad November 4, 2006. [Reuters]


Prime Minister Nuri al-Maliki, who called for the ousted president to be executed quickly, said he should get "what he deserves" for killing, torturing or jailing hundreds of Shi'ite Muslims after gunmen from Maliki's Shi'ite Dawa party tried to kill Saddam in the town of Dujail in 1982.
Special coverage:
Iraq after War

Related readings:
Saddam lawyers want verdict delayed
Iraq cancels leave before Saddam verdict
Saddam lawyer warns against execution
Rumsfeld OKs hike in Iraqi forces
Bush pledges support for Iraq PM
US death toll in Iraq worst in a year
"If he is guilty, he deserves the death penalty," Ali Hassan, who testified against Saddam last year, told Reuters in Dujail. "The law must take its course."

Chief judge Raouf Abdul Rahman, an ethnic Kurd, was expected to summon the court to order from around 10 a.m. (0700 GMT) and spend several hours delivering a summary of the verdicts and sentences for Saddam and seven others accused of crimes against humanity, though court officials do not rule out a postponement.

A full text of the five judges' rulings, running to hundreds of pages, will be issued in the coming days, court sources said.

A death sentence or life imprisonment generates an automatic appeal, delaying any execution by months at least. Saddam, with rhetoric typical of his defense over the past year, has told the court he wants to face a military firing squad, not the hangman.

A conviction may be a timely lift for President George W. Bush before Tuesday's U.S. elections, when Republicans could lose control of Congress partly in a backlash over the Iraq war.

U.S. officials have dismissed suggestions by Saddam's lawyers that the verdict was timed with the elections in mind.

As the U.S. military and Iraqi civilian death tolls mount, Bush defends toppling Saddam as part of his "war on terror" to protect the United States after the September 11 attacks. Evidence of ties between Saddam, a secular Arab nationalist, and the global Islamists of al Qaeda remains controversial, however.

LOCKDOWN

Baghdad went into total curfew overnight, as did Saddam's home province, including Dujail, and other areas where fellow minority Sunni Arabs could hit back at a guilty verdict.

Yet an embryonic civil war that is killing hundreds of people a week has left many Iraqis indifferent to the fate of the 69-year-old fallen strongman as he has argued theatrically for his life at the courthouse in one of his Baath party's old buildings in the heavily fortified, U.S.-protected Green Zone.

The killing of three defense counsel, fearful witnesses and a chief judge who quit over government interference has also tarnished the credibility of one of the great experiments in the law of war crimes since Nazi leaders were tried at Nuremberg 60 years ago.

After Saddam's capture three years ago, the American occupiers resisted calls for the case to be handed over to an international court such as those for Rwanda and the former Yugoslavia. Instead, they said, Iraqis should try Saddam themselves and in the process exorcise 30 years of fear.

Yet the violence that erupted once Saddam's oppression was lifted has threatened to engulf the Iraqi High Tribunal.

Funded, trained and heavily guided at times by American lawyers, the special court has so far launched two trials -- the second a genocide prosecution over the deaths of 180,000 Kurds in 1988 -- and has up to a dozen other cases in the works.

Prosecutors have sought death sentences for Saddam, his half-brother and former intelligence chief Barzan al-Tikriti, vice president Taha Yassin Ramadan and judge Awad al-Bander. Three minor Baath party officials from Dujail also face sentencing while a fourth has been recommended for acquittal.

Nine men were killed immediately after the assassination bid on July 8, 1982. Another 148, some of whom had already died under torture, were later sentenced to death by Bander. Saddam said he ordered the executions and justified them because those killed were agents of Shi'ite Iran, with which Iraq was at war.

Human rights activists have criticised the quality of the casework and the court's difficulties in protecting witnesses and defense lawyers. Its proponents point to a substantial body of evidence, gripping witness testimony on torture and killing and accuse Saddam's attorneys of shambolic grandstanding.

Saddam's defenders denounce the trial as "victor's justice." One of them, former U.S. Attorney General Ramsey Clark, said hanging him could "create violence ... for generations to come."

However, Saddam's ability to rouse passions in the nation he subdued for three decades seems to have diminished since Iraqis first watched in awe as, now bearded and a prisoner, he told the court on its first day a year ago: "I am the president of Iraq."