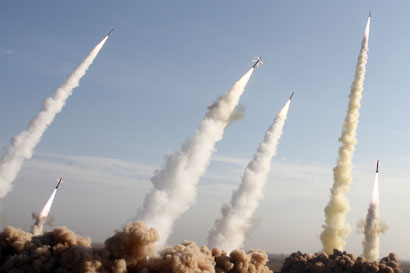 Iran's Revolutionary Guards fire missiles during a war game in a desert near Qom, southeast of Tehran, November 2, 2006. [Reuters]



TEHRAN, Iran - Iran test-fired dozens of missiles, including the Shahab-3 that can reach Israel, in military maneuvers Thursday that it said were aimed at putting a stop to the role of world powers in the Persian Gulf region.

The show of strength came three days after US-led warships finished naval exercises in the Gulf that Iran branded as "adventurist." Iran remains locked in dispute with the West over its nuclear program, which Washington says is geared to producing atomic weapons but Tehran says is only for generating electricity.

Asked about Thursday's maneuvers, Secretary of State Condoleezza Rice said she thought the Iranians "are trying to demonstrate that they are tough."

"The Iranians also I think are not unaware that the security environment is one in which if they actually were to do something Iran would suffer greatly and so I think they probably understand that," Rice said on the Bill Cunningham radio show on WLW Cincinnati.

"They are trying to say to the world you are not going to keep us from getting a nuclear weapon," she said. "The world has to say to them, yes, we will."

Iranian state television reported that several kinds of missiles were tested, and broadcast footage of them being fired from mobile launchers.

"We want to show our deterrent and defensive power to trans-regional enemies, and we hope they will understand the message," the head of the Revolutionary Guards, Gen. Yahya Rahim Safavi, said in a clear reference to the United States, Britain and France, who were among the six nations that took part in the Gulf maneuvers this week.

Iranian state radio said: "The maneuver is aimed at providing security in the region without the intervention of trans-regional powers, which are trying to justify their presence by portraying the region as convulsive."

In Israel, Infrastructure Minister Binyamin Ben-Eliezer said he was not surprised by the missile tests, and warned that to leave Iran unchecked would pose a risk to the world.

"Iran is following a direct line after North Korea. Therefore this problem is not Israel's but that of the entire world," Ben-Eliezer said, referring to North Korea's recent nuclear test and its frequent launches of long-range missiles.

Iran's Shahab-3 missile, which can carrying a nuclear warhead and is believed to have a range of more than 1,240 miles, is believed to be based on North Korea's Nodong missile. Iran is said to have funded the Nodong's development.

Iran, which denies obtaining missile technology from North Korea, has been testing the Shahab-3, which means "shooting star" in Farsi, since the late 1990s and publicly paraded the rocket for the first time in 2003.


| | | |
| --- | --- | --- |
| 1 | 2 | |