Iran stepping up uranium enrichment
(AP)
Updated: 2006-10-28 20:55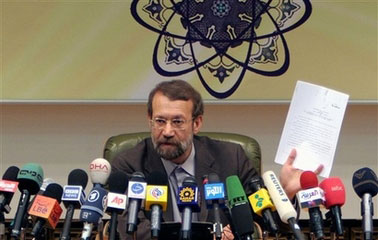 Iran's top nuclear negotiator Ali Larijani, who is also Iran's Sercretary of Supreme National Security Council, shown in Tehran, Iran, in an April 25, 2006 file photo. [AP]


TEHRAN, Iran -- Iran officially confirmed that it has stepped up uranium enrichment by injecting gas into a second network of centrifuges, a state-run newspaper reported on Saturday.

The injection of the uranium gas into the second cascade marked Iran's first known enrichment since February.

"We have exploited products from both cascades," the Iran Daily newspaper quoted Mohammad Ghannad, deputy head of Iran's Atomic Energy Organization, as saying Saturday. "The second one was installed in the past two week."

Ghannad said both cascades were enriching uranium to be between 3 to 5 percent of the uranium isotope needed for nuclear fission ¡ª enough for industrial use but not for weapons.

"This experience will help Iranian engineers get closer to industrial uranium enrichment," he said.

The U.N.'s nuclear watchdog, the International Atomic Energy Agency, has been aware of the second cascade for the five months, Ghannad said.

Injecting gas into centrifuges can either yield nuclear fuel or material for a warhead, but doesn't represent a major technological breakthrough and is unlikely to bring Iran within grasp of a weapon.

Tehran's announcement signaled the Islamic Republic's resolve to expand its atomic program at a time of divisions within the U.N. Security Council over a punishment for Iran's defiance.

The Iranian Students News Agency first reported the development. Iran's government sometimes uses the news agency to leak information deemed too sensitive for official channels.