Bangkon, Thailand - Thailand's new military ruler, winning crucial royal backing for his bloodless coup, announced Wednesday that he would not call elections for another year. The US and other Western nations expressed disapproval and urged a swift restoration of democracy.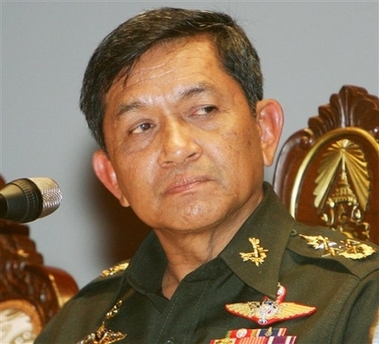 Thailand's Army Commander-in-Chief Gen. Sondhi Boonyaratkalin listens to a reporter's questions in Bangkok Wednesday, Sept. 20, 2006. [AP]
( Related: Thai junta bans political party meetings )
Army commander Gen. Sondhi Boonyaratkalin, appearing relaxed and confident in his military uniform at his first news conference since seizing power Tuesday night, said he would serve as de facto prime minister for two weeks until the junta, which calls itself the Council of Administrative Reform, chooses a civilian to replace him and drafts an interim constitution.
Sondhi sealed the success of his coup by receiving royal endorsement as leader of the new junta, while ousted Prime Minister Thaksin Shinawatra, who watched events unfold from abroad, pondered his future and the threat of possible prosecution at home.
Receiving the imprimatur of revered King Bhumibol Adulyadej legitimizes the takeover, and should effectively quash any efforts at resistance by Thaksin's partisans. Thaksin's ouster followed a series of missteps that prompted many to accuse the prime minister of challenging the king's authority, an unpardonable act in this traditional Southeast Asian nation that is a popular vacation destination for Westerners.
There appeared to be a sense of relief among many Thais at the resolution of political tensions that had hung over the nation since the beginning of the year, when street demonstrations demanding Thaksin step down for alleged corruption and abuse of power gained momentum. Thailand has had no working legislature and only a caretaker government since February, when Thaksin dissolved parliament to hold new elections in an effort to reaffirm his mandate.
The presence of tanks and armed soldiers on the streets of Bangkok, a city of more than 10 million, was taken with good humor in an almost holiday atmosphere. Schools, government offices and the stock market were closed Wednesday but were to reopen Thursday.
There was also hope that a new regime could more effectively address an Islamic insurgency in the south that has resulted in more than 1,700 deaths in the last two years.
Sondhi, a 59-year-old Muslim in a predominantly Buddhist country, had proposed several weeks ago opening talks with the separatists, but Thaksin's government vehemently opposed such a move.
"Thaksin's government has totally failed to quell the violence, so we are pinning our hope on the Council of Administrative Reform," said Srisompob Jitpiromsri, a political scientist from Prince of Songkhla University in the southern province of Pattani.
Outside Thailand, the coup drew criticism from several foreign governments and human rights groups, who expressed dismay at the overthrow of a popularly elected government.
The Bush administration denounced the coup and hinted that US aid, military cooperation and improved trade relations might be in jeopardy.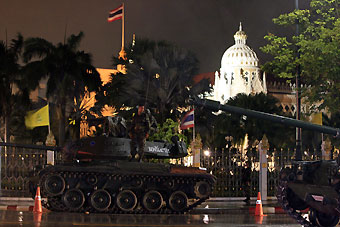 Military tanks surround the Government House in Bangkok September 19, 2006. [Reuters]
"There is no justification for it," State Department deputy spokesman Tom Casey said. "It is a step backward for democracy."
Casey said US assistance programs for Thailand had been put under review. At the White House, spokesman Tony Snow said negotiations on a free trade agreement with Thailand depended on restoration of democracy.
"We hope those who mounted it make good and make good swiftly on their (promise) to restore democracy," Snow said.
One of the stronger reactions came from the European Union, which demanded "that the military forces stand back and give way to the democratically elected political government."
Human Rights Watch said the military "should immediately restore fundamental human rights and protect those exercising their rights to free expression, association and assembly."
The economic fallout was still hard to judge. The stock market was closed, but in currency markets the Thai baht fell sharply, its weakness rippling out to other Asian currencies, including the Singapore dollar, Malaysian ringgit and Philippine peso. The International Monetary Fund, which bailed Thailand and some of its neighbors out of a financial crisis in the late 1990s, believed the region would be little affected, said the IMF's chief, Rodrigo de Rato.
"Thailand's economy is fundamentally strong," he said.
The swift and bloodless nature of the coup gave hope that the effects on Thailand's large tourist industry might be minimal, though several nations advised caution.
The US Embassy, in an e-mail to its citizens living in Thailand, said while there had been no reports of violence, Americans should "monitor the situation closely, avoid large gatherings and exercise discretion when moving about" Bangkok.
"At this point, we are not advising Americans to leave Thailand; however, Americans planning to travel to Thailand may wish to carefully consider their options before traveling until the situation becomes clearer," the e-mail read.
Britain told its citizens in Thailand to stay in their homes, while Japan, Australia and Canada similarly advised caution.
Sondhi made two public appearances Wednesday, the first to make a brief formal announcement:
"We would like to reaffirm that we don't have any intention to rule the country and will return power to the Thai people as soon as possible," he said, flanked by the three armed forces chiefs and the national police chief.
His second appearance came at a news conference attended by about 300 Thai and foreign journalists. Seated on a stage, he spoke calmly but with confidence and smiled occasionally.
Sondhi said Thailand's foreign policy and international agreements will remain unchanged, and that new general elections will be held by October 2007.
He said the coup, the country's first in 15 years, was necessary to heal rifts in Thai society, and to end corruption, insults to the king, and what the general called Thaksin's attempts to destroy democratic institutions.
Although Thaksin handily won three general elections, opponents accused him of emasculating democratic institutions, including packing the state Election Commission with cronies and stifling media that were once among Asia's freest.
Thaksin had a power base among the rural majority, a previously neglected segment who benefited from his populist policies of government assistance.
The junta warned farmers and workers not to stage protests, and military roadblocks were set up on the outskirts of Bangkok, reportedly to keep Thaksin's supporters from reaching the capital.
Two minor pro-Thaksin demonstrations were briefly staged in Bangkok before being gently broken up by the authorities.
Thaksin flew from New York, where he had been attending the UN General Assembly, to London, where he maintains a residence. He did not comment on his plans.
With Thaksin out of power, speculation has been rising on whether a new government might try to prosecute him for alleged corruption.
Asked if there would be moves to confiscate Thaksin's vast assets, Sondhi said "those who have committed wrongdoing have to be prosecuted according to the law."