BANGKOK, Thailand - Thailand's new ruling junta on Thursday announced a ban on meetings of political parties and barred the establishment of new parties. The announcement, made on all Thai television stations, said the action was taken to maintain peace and order. Also, coup leaders said they were assuming parliament's legislative duties and powers.
The bans were the latest moves by the junta to maintain control, even though no open opposition has surfaced to its Tuesday night takeover. Other moves include limitations on public meetings and restrictions on the media.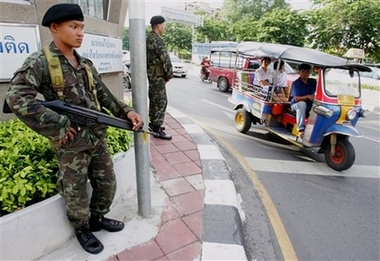 Thai soldiers stand guard on a street in Bangkok, Thailand, Thursday, Sept. 21, 2006. Bottleneck traffic returned to the streets and Thais went back to work Thursday, 36 hours after a military takeover that many in Bangkok described as the most 'friendly' coup this country has ever seen. [AP]
Ousted Prime Minister Thaksin Shinawatra lay low in London as the junta purged his followers and also took steps to possibly go after the vast assets of the tycoon turned politician.
Thaksin said in a statement released in London that he will take a "deserved rest" and he urged the military to quickly arrange for new national elections. He also urged "all parties to find ways and means to reconcile and work toward national reconciliation for the sake of our king and country."
Less than 48 hours after tanks rolled into the streets to overthrow Thaksin's regime, the Thai capital appeared to have returned to normalcy, with all businesses reopening and Bangkok's notorious traffic jams returning with a vengeance.
And despite condemnation of the coup by Western and some Asian governments, hope emerged on the homefront that the new government might have a chance to resolve a bloody Muslim insurgency that has led to the deaths of more than 1,700 people.
An exiled rebel leader welcomed the military coup, saying that it could help resolve the country's bloody Muslim insurgency.
Lukman B. Lima, an exiled leader of one of several groups fighting the central government for a separate Muslim state, said coup leader Gen. Sondhi Boonyaratkalin, a Muslim, was the "only one who knows the real problems" of the Muslim-dominated provinces of southern Thailand.
"We hope that the political (situation) can be resolved under Gen. Sondhi Boonyaratkalin as the new leader," Lukman wrote in an e-mailed response to questions from The Associated Press. Lukman, vice president of the Pattani United Liberation Organization, or PULO, is in exile in Sweden.
Thaksin arrived Wednesday in London from New York, where he had been attending the UN General Assembly.
| | | |
| --- | --- | --- |
| 1 | 2 | |