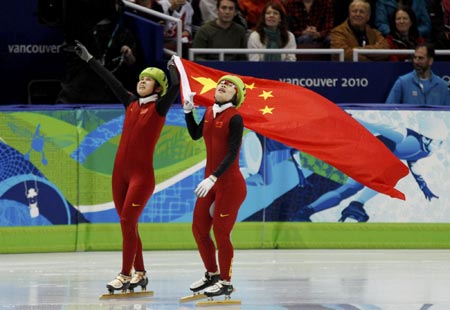 China's Wang Meng (L) celebrates her gold medal with compatriot Zhou Yang at the end of the women's 1000 metres short track speed skating final at the Vancouver 2010 Winter Olympics, February 26, 2010. [Photo/Agencies]

VANCOUVER - China's Wang Meng powered into victory in the women's 1,000m short track speed skating race after 500m and 3,000m relay triumph at the Vancouver Olympics on Friday, becoming China's first winter Olympian to win three gold medals at one single Games.
Wang's teammate, 1,500m champion Zhou Yang, finished last in the four-woman race after failing to cut in during final laps.
World number one Wang Meng survived a near collision with South Korea's Park Seung-hi and American Katherine Reutter while cornering a bend with three laps to go but kept her nose in front to cross the line first.
Reutter took the silver, with Park, who was a member of the Korean relay team that was disqualified despite crossing the line first earlier this week, picked up the bronze.
Wang's victory meant China had had a clean sweep of the women's events in Vancouver after Zhou Yang's triumph in the 1500 and Wang's victory over 500 meter earlier in the competition. They also claimed the 3,000 relay title.