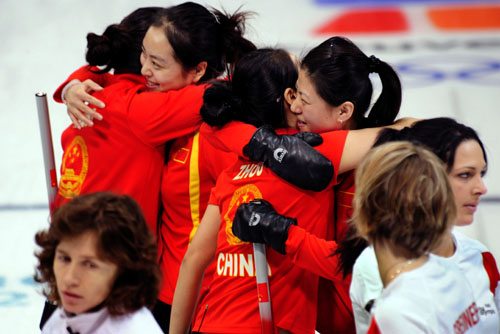 China's Wang Bingyu, Yue Qingshuang, Zhou Yan and Liu Yin (from L to R) hug to celebrate after the women's curling bronze medal match with Switzerland at the 2010 Winter Olympic Games in Vancouver, Canada, Feb. 26, 2010. [Photo/Xinhua]
VANCOUVER - China withstood a fightback by Switzerland and a week-long emotional roller-coaster to win the women's curling bronze medal in convincing fashion on Friday.
Led by 25-year-old skip Wang Bingyu, China beat Switzerland 12-6 in just eight of the 10 regulation ends after Swiss captain Mirjam Ott undershot her target by a wide margin on the last rock.
With four Chinese stones in scoring territory, it put the game out of reach.
The Chinese team and their Canadian coach Dan Rafael burst into tears and hugged each other. After a tough loss earlier in the week, an angry Rafael complained at length that his squad, the 2009 world champions, lacked passion.
"It took a while, but the real team China finally showed up," an emotional Rafael told reporters.
Wang said her team showed they had the passion to bounce back after losing their chance to play for the gold.
"We just were thinking that this is our last Olympic game. We just wanted to play well. Yesterday we lost and let it go quickly," she said.