Universiade volunteer focuses on teamwork
Updated: 2011-08-13 16:20
By Wang Qingyun (chinadaily.com.cn)
A security guard of Shenzhen Universiade shares her story of volunteer work at Bao'an District Stadium, Wang Qingyun reports from Shenzhen.
"I have a lot of things to share since becoming a security guard volunteer," Chen Xiaobai said with a smile. A junior majoring in law at Hubei University of Police, the petite 21-year-old came to Shenzhen with 1,003 of her classmates to work as Shenzhen Universiade volunteers soon after summer vacation began.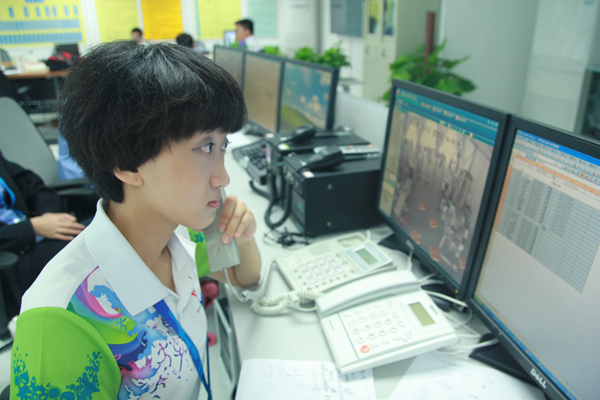 Chen Xiaobai works as a coordinator at the Security Command Center of Bao'an District Stadium in Shenzhen on Aug 12, 2011. [Photo/chinadaily.com.cn]
First glance
Although it's her fourth visit to Shenzhen, Chen describes her trip to the host city of the 26th World University Summer Games as "extremely tiring", and a kind of journey she never experienced before.
"I spent more than 20 hours on a hard-seat in a train to get here. I had a heavy bag with me, the seat was dirty and I couldn't fall asleep."
However, she was surprised by a motorcade that met her and her fellow students when they arrived at the train station on July 18. "There were about 20 orange buses waiting in a line, all brand new, spacious and clean."
Chen and her fellow volunteers now live in Shenzhen Bao'an Middle School, and found on their arrival that their dormitories were already prepared with new toothbrushes, toothpaste, shampoo, towels and blankets.
Chen believed the very carefully managed logistics helps volunteers focus on their work. Yet what moved her most is a poster she saw the first day.
"Our buses passed by green Universiade posters on the expressway, and I saw a poster reading, 'Everyone is Shenzhenese when they come to Shenzhen', "Chen said. "I thus felt the city's great 'migrant culture'. I feel it treats all the people here as its own people, and I believe the migrants will work for it as for their own hometown."
Daily work
Chen was assigned the job of coordinator at the Security Command Center of Bao'an District Stadium, a unit that connects all the security forces deployed at the stadium for men's football and women's football.
Her job is to keep records and catalogue files of regular security meetings, contact her co-workers, and receive officials and other guests visiting the stadium.

She starts work at 9 am, but extra work often keeps her in the office until after 9pm. A women's football match between China and Chinese Taipei was held at the stadium a day before the opening ceremony, attracting 13,000 spectators, occupying more than a fourth of its 40,000 seats.
"We kept in touch with all the stadium's entrances, and monitored the situation there as spectators went in for the game," Chen said, adding that she also kept an eye on the bleachers with a telescope.
"I need some sleep," Chen said, as she worked until 1 am, and had to put on some make-up to cover the dark circles under her eyes.
Although the work is tiring, Chen said she loves to work with all her fellow volunteers as a team: "Teamwork never stops fascinating me."
Video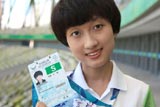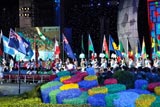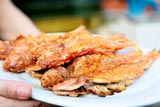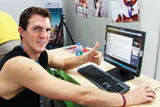 About Shenzhen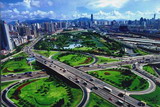 Shenzhen is located at the southern tip of the Chinese mainland on the eastern bank of the mouth of the Pearl River and neighbors Hong Kong.

The brainchild of Deng Xiaoping, the country's first special economic zone was established here by the Chinese Government in 1980. It has been a touchstone for China's reform and opening-up policy since then.