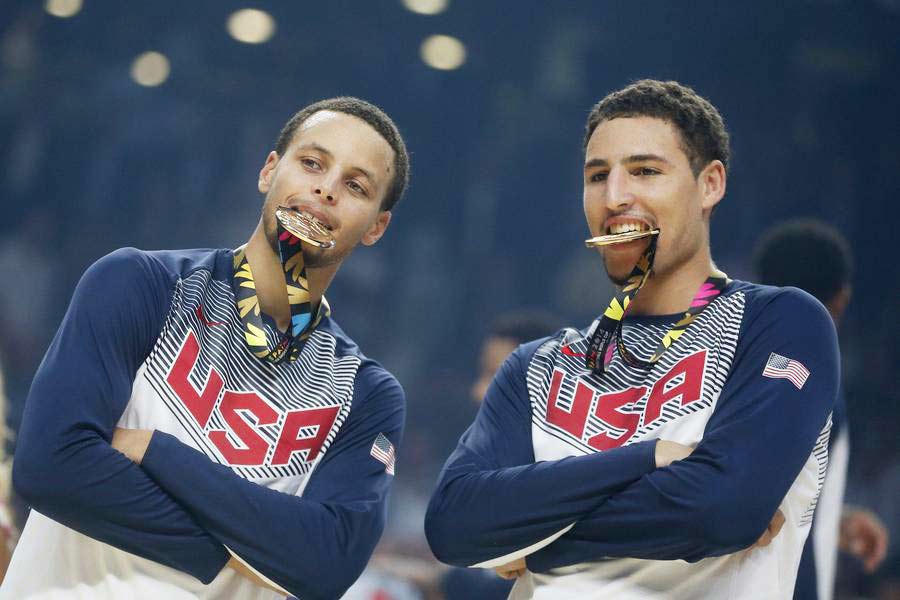 US players Stephen Curry (L) and Klay Thompson bite their gold medals after winning their Basketball World Cup final game against Serbia in Madrid, Sept 14, 2014. [Photo/Agencies]
They have won 63 straight games - 45 in official FIBA events and 18 in exhibition play - and are automatically qualified for the 2016 Olympics in Brazil.
LeBron James, Durant, Carmelo Anthony and Chris Paul might want to return for that competition. But the Americans will have to leave room for some players from this team, which has loads of young talent that figures to get even better from the time it spent together.
It was the fifth world title for the Americans, tying Yugoslavia for the most all-time. And the second for Derrick Rose, who used this tournament as his return after missing most of the last two seasons following a pair of knee surgeries, along with Curry and Rudy Gay.
It was the first medal for Serbia, which had been a part of Yugoslavia when it won five. The Yugoslavians had been the last repeat champions, winning in 1998 and 2002.
The Serbians were only 2-3 in the group stage but then routed previously unbeaten Greece and Brazil before building a big lead and holding on for a 90-85 semifinal victory over France, which had beat them in the group stage and knocked out tournament co-favorite Spain in the quarters.
Serbia carried that momentum into the early moments of this one. Using a fluid offense that produced layups and dunks, Serbia opened the biggest lead any team had against the US in this tournament when Miroslav Raduljica's three-point play made it 15-7.
That was wiped out in a minute, and Serbia's hopes of winning didn't last much longer.
"I don't think anything worked what we planned, but nevertheless I'm still happy with the effort that we put on the floor," Serbia coach Sasha Djordjevic said.
Harden had a three-point play and a 3-pointer, DeMarcus Cousins tied it with a pair of free throws, and then Irving had a jumper, 3-pointer and layup to cap a 15-0 burst that made it 22-15.
Irving hit a couple more 3s in an 11-0 run later in the quarter that provided a 35-19 cushion, and the Americans poured it on midway through the second in making it 56-30 after back-to-back 3s by Irving and Harden.
France beat Lithuania 95-93 on Saturday for the bronze.