No great expectations for Chinese in London
Updated: 2011-09-06 07:59
By Lei Lei (China Daily)
| | | | | | | | | | | |
| --- | --- | --- | --- | --- | --- | --- | --- | --- | --- | --- |
|   | | Comments() | | Print | | Mail | | Large Medium  Small | 分享按钮 | 0 |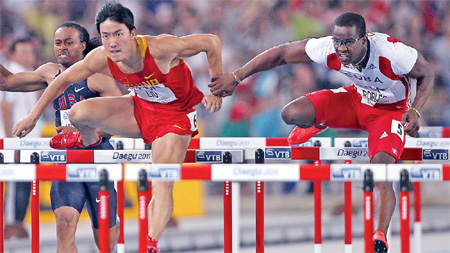 Liu Xiang of China (left) and Dayron Robles of Cuba compete during the men's 110 meters hurdles final at the IAAF World Athletics Championships in Daegu. [Photo by Cui Meng / China Daily]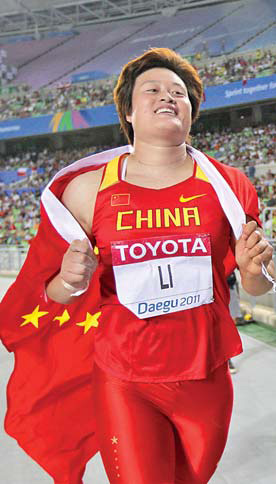 Li Yanfeng of China celebrates her gold medal in the women's discus at the World Championships on Aug 29, 2011. [Photo by Cui Meng / China Daily]
China conservative about London Games' prospective despite impressive showing, Lei Lei reports
With one gold medal, two silver and one bronze, China achieved its best result at the IAAF World Championships over the past 18 years. However, the nation's sports officials remain reluctant to make any predictions of track and field glory at the London Olympic Games next year, stating the team will face a tougher challenge there and still has a long way to go.
"I give 85 out of 100 marks to the Chinese team," said Feng Shuyong, head coach of the track and field squad.
"But that is just for the results of this competition. We can't say we will always perform like this in future competitions. There are several strong opponents for our athletes in all of those medal events. So it will be difficult for us at the London Olympics.
"The results in Daegu have boosted our confidence for the London Games, but the results in London will depend on how they perform there at that time."
China's best result at the IAAF World Championships was achieved in 1993 in Stuttgart, Germany, where it gained four gold medals, two silver and two bronze and ranked second in gold medals won, behind the United States.
At the last worlds in Berlin, two years ago, China won one gold medal, one silver and two bronze, to rank 13th.
At the nine-day event in Daegu, China made a breakthrough in the women's discus when Li Yanfeng won gold. Star hurdler Liu Xiang came back from a long-term injury to win a silver despite a clash with archrival Dayron Robles of Cuba. Another silver came in the women's 20km walk race, while women's hammer thrower Zhang Wenxiu added a bronze on the last day.
Among them, the return of Liu, the former world and Olympic champion in the men's 110m hurdles, impressed the officials the most.
"We are satisfied with the performances of those key athletes, especially Liu," said Du Zhaocai, director of China's Athletics Administrative Center.
"There was a big question mark over him after his withdrawal in 2008, but he conquered lots of difficulties, both physically and psychologically, to stand up again. He showed his tolerance and understanding in the race this time."
For the officials, the overall results in Daegu pointed out the weak points of track and field in China.
"We don't have any strong events that could secure a medal for us," said Du. "We are only strong in the men's hurdles, women's throwing events and race walking, which is a small part of the 47 events of track and field.
"In those events, we also lack elite athletes that could secure the gold medal, including Liu. We are not strong enough to think about striving for a gold at the London Olympics. We can only eye medals."
However, the Daegu worlds saw some young athletes emerge, such as men's high jumper Zhang Guowei, 20, who soared to a personal best of 2.31m to qualify for the final, and men's race walker Wang Zhen, who finished fourth in the 50km race at his first worlds.
"We have no traditionally strong events in track and field, like badminton and table tennis," Du said. "We have to learn from those traditional sports and store enough reserve forces for the long-term development of the sport."