What heritage has Yao Ming left besides basketball?
Updated: 2011-07-11 10:17
(Xinhua)
| | | | | | | | | | | |
| --- | --- | --- | --- | --- | --- | --- | --- | --- | --- | --- |
|   | | Comments() | | Print | | Mail | | Large Medium  Small | 分享按钮 | 0 |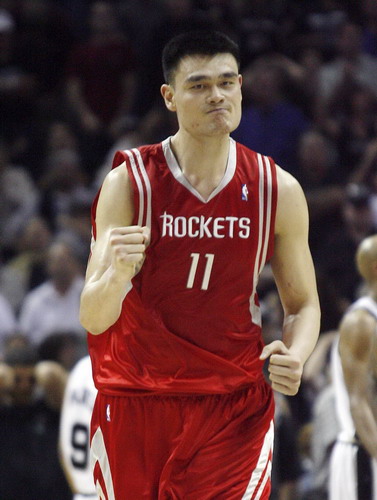 Houston Rockets Yao Ming celebrates a win over the San Antonio Spurs in their NBA basketball game in San Antonio, Texas in this March 22, 2009 file photo. Houston Rockets center Yao, one of the biggest names in contemporary basketball, has announced his retirement from the National Basketball Association, according to several media reports on July 8, 2011. The seven-foot six-inch (2.3-metre) Yao, an eight-time All-Star, has been plagued by assorted injuries in recent years and missed the entire 2009-10 season after suffering a fractured bone in his left foot. [Photo/Agencies]
LOS ANGELES - Basketball has suffered a big loss: Yao Ming, the 7-foot-6 center and 8-time NBA All-Star is reportedly retiring due to career-ending injuries.
Related readings:


Yao's agent quiet on All-Star center's future 


Chinese laud Yao 


Yao's reported retirement wins support 


Yao Ming to announce retirement soon
Citing league sources, Yahoo! Sports and the Houston Chronicle have reported the Houston Rockets center has decided to leave the game after nine NBA seasons.
Yao, who averaged 19.0 points and 9.2 rebounds per game in eight seasons, played in just five games over the past two seasons as a result foot and ankle problems despite multiple surgeries to repair the damage.
When he was introduced last month as the new Rocket coach Kevin McHale said, "We'd all be really happy if Yao comes back to play, and I hope he can. I think he'll give it his best shot. His body is going to dictate if he can come back and play."
Yao, who turns 31 in September, had stated back in May that his surgically repaired left ankle was healing properly and that he wanted to remain with the Rockets. But it just came down to the fact after a lengthy rehab Yao just wasn't able to perform at the level he and the team had hoped for.
His contract had expired after this past season with the Rockets, who have missed the playoffs the last two seasons.
The big man, who excelled for the Shanghai Sharks of the Chinese Basketball Association (CBA) before his historical move to the NBA as the Rockets' top pick in the 2002 draft, made an impact from the start averaging 13.5 points, 8.2 rebounds and 1.74 blocks in 82 games and was selected to the All-Rookie, All-Star team. He was the only rookie to lead his team in both rebounds and blocks, and the only rookie to rank in the top 20 in three statistical categories.
Respected by other giants such as Shaq O' Neal because Yao was a big man who relied on skill in addition to size, O' Neal stepped up his game in their head-to-head meetings dashing out on screens, recovering on pick-and-rolls knowing Yao had more tools than most centers including: versatile low-post maneuvering, surprising footwork and a brilliant shooting touch. His mobility in the post and a jump hook that was practically impossible to block were keys to him being a top player.
Though the Rockets never measured up to the high expectations (and payroll) they had during the Yao Era, the true measure of his contributions are on such a grand scale that it is fair to say that Yao has had the biggest global impact on the basketball scene since Air Jordan.
Has there been anyone like him? The embodiment (a very large one) of the cultural aspirations of the Chinese society, Yao became an iconic symbol of his native country's growth and global status. He carried the Olympic torch through Tiananmen Square and proudly carried his country's flag during the opening ceremony in Beijing in 2008 and despite a long grueling NBA season, gave his all playing for the national team.
Yao wasn't the first Chinese citizen to play in the NBA, but he is certainly its most important. The Big Man built a bridge where none had existed and introduced millions in two countries to cultures they didn't really know. "America is learning things about the Peoples' Republic of China," NBA Commissioner David Stern once said. "And a lot of people in China are learning about America through him."
That bridge has become a two-way street as his impact has led to greater acceptance to fans in China for former NBA stars like Stephon Marbury and Smush Parker to flourish playing in the CBA.
Yao gave to the game elements that can't be measured in wins and losses, points or rebounds. China was relatively uncharted territory for the NBA back in '02. While he became wealthy in the process, Yao was pivotal in opening the Asian market to the NBA which is now prospering in that region.
NBA China is the league's most valuable foreign asset, with a handful of corporate partners that have invested more than $250 million and millions of young Chinese consuming NBA merchandise.
Other players have helped grow the NBA overseas, but establishing the connection between the league and the most populated country in the world seems almost unimaginable without Yao.
Recently retired himself, O'Neal congratulated Yao on a fine career in an online video post.
"We're going to miss you, bro," O'Neal said. "You're one of the greatest players ever to come out of China. You're one of the greatest players, period. I'm going to miss you, brother. Enjoy retirement. Let's go on vacation, bro. Me and you."
A basketball phenom coming to America shrouded in mystery from a part of the world that had not produced any before, despite being a big man, Yao carried the heavy expectations of 1.3 billion people on his back with grace and humility and the game is better for it.