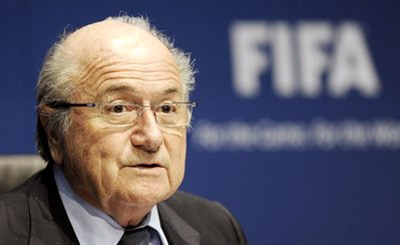 FIFA President Joseph S Blatter during a press conference in Zurich, Switzerland, March 3, 2011. [Photo/Agencies]
ZURICH - FIFA promised new rules on Thursday to help stop international matches being fixed for betting scams.
FIFA President Sepp Blatter pledged tighter monitoring of referees' assignments as investigations continue into two suspect friendlies played in Turkey last month.
Related readings:


 European clubs blast FIFA


 FIFA suspends Israel coach


 Jordan's Prince Ali wins FIFA vice-presidency


 FIFA officials banned over World Cup bid corruption


 IOC to probe alleged FIFA WCup corruption
"There will be new regulations for these international matches which are mostly ... organized only for betting reasons," Blatter said. "Football is a victim of our popularity but we have to protect the game."
Organizers of exhibition matches - for national or club teams - will need to submit referees' names for approval two months before kick off, FIFA secretary general Jerome Valcke said.
FIFA and its continental bodies will have veto power "if we have any reason to think that the referee is not the right referee to be on such a game," Valcke said.
FIFA is currently investigating a February 9 double-header arranged by a Thai-based agency, where all seven goals were scored from penalty kicks awarded by low-ranked Hungarian match officials as Latvia beat Bolivia 2-1 and Estonia drew 2-2 with Bulgaria.
National team officials had alerted FIFA and European authority UEFA two weeks earlier after the agency refused to provide referees' details.
The teams were advised to play in a near-empty Antalya stadium with meager television coverage.
Hungary's football federation has since suspended the officials.
Valcke said FIFA also investigated a match between Bahrain and a fake Togo team last September, and was aware of other possible fixes involving European referees sent to officiate in South America.
FIFA will now draw up new statutes governing international matches at national and club level. Changes to FIFA's official rule book can be agreed at its annual congress, scheduled June 1 in Zurich.
FIFA also is backing International Olympic Committee efforts to coordinate world sports' crackdown on match-fixing and corrupt betting. Blatter said FIFA legal director Marco Villiger has joined an IOC working group that will submit proposals this year.