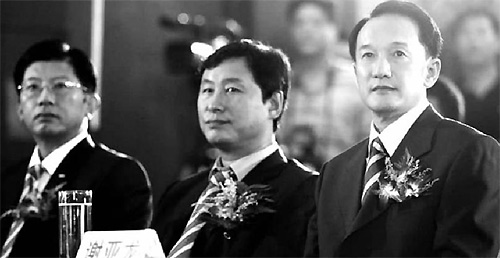 (From L to R) Yang Yimin, Nan Yong, Xie Yalong, file photo. [Photo/soccer.goalchina.net]
The seven detained former officials from the Chinese Football Association (CFA) will stand trial early next year, said Monday's Soccer News, after a year-long sweeping probe into Chinese football's gambling and match-fixing.
Related readings:


 New soccer leader named in scandal-rocked CFA


 Three CFA clubs punished over match-fixing and bribing


 CFA staff probed for soccer scandals


 Game over for sullied soccer chief, says CFA
All seven sacked officials - ex-CFA head Xie Yalong, his successor Nan Yong and Nan's deputy Yang Yimin, former national team manager Wei Shaohui, ex-CFA referee heads Li Dongsheng and Zhang Jianqiang, and former football league official Fan Guangming - will face charges of bribery, according to the Guangzhou-based football newspaper.
The three top officials, Xie Yalong, Nan Yong and Yang Yimin, will be prosecuted for an additional crime of dereliction of duty because of their special executive posts in the Chinese Football Administrative Center, while Fan will also face a charge of gambling.
According to the newspaper, more than 10 kilograms of evidence, including copies and conversation records, have been collected for upcoming court hearings to be opened in the Tieling City Procuratorate, Northeast China's Liaoning province.
However, a tough problem still exists as the allegation of match-fixing, or manipulating the outcome of matches, cannot be prosecuted for no Chinese law ever defined it as a crime.