BEIJING: Two top Chinese soccer clubs were relegated and a second division team was disqualified entirely due to match-fixing and paying bribes, the Chinese Football Association (CFA) announced here on Tuesday.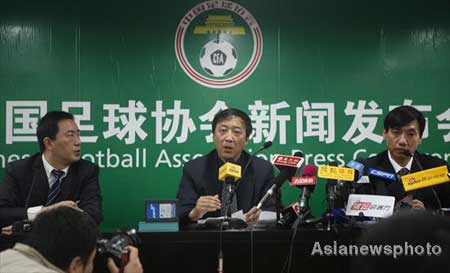 Wang Xiaoping (Middle) speaks during the news conference which announced the punishment for three Chinese soccer clubs that were involved in match-fixing and paying bribes on February 23, 2010. [Photo/asianewsphoto] 
Wang Xiaoping, director of the CFA disciplinary commission, said in the news conference that Chinese Super League sides Guangzhou Pharmaceutical and Chengdu Sheffield United were demoted to the second division, while second division team Qingdao Hailifeng was disqualified entirely and fined 200,000 yuan (about $28,570).
Related readings:


 Chinese soccer league to begin on March 20


 China's soccer chief held in matchfixing probe: media


 China soccer match-fixing probe nets 3 execs


 English football offers help to China's quake victims
Guangzhou Pharmaceutical was penalised for paying bribes to Shanxi Luhu and Zhejiang Lvcheng in August and September 2006, while Chengdu Sheffield United paid bribes to Qingdao Hailifeng in September 2007.
The punishment of the two clubs will potentially reduce the Chinese Super League to just 14 teams, which is scheduled to begin next month.
Apart from taking bribes from Chengdu Sheffield United in 2007, Qingdao Hailifeng also had undercover dealings with another second division club in 2009, which made its punishment the heaviest among the three clubs.
The CFA disciplinary commission also announced the punishment for Nanjing Youyou club, which broke the FIFA regulations in the payment of foreign players.
The Nanjing team was deducted six points and fined 50,000 yuan (about $7,100).