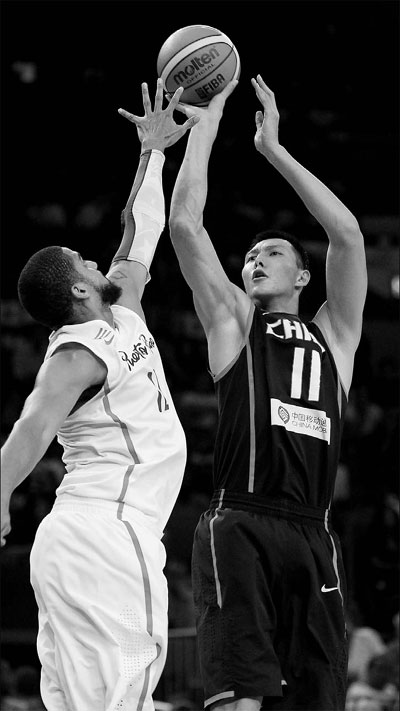 Yi Jianlian of China shoots over Nathan Peavy of Puerto Rico during their exhibition game as part of the World Basketball Festival at Madison Square Garden on Aug 15 in New York City. Washington Wizards forward Yi will lead the Chinese team in Group C of the World Championship in Turkey.[Nick Laham / Getty Images / Agence France-Presse]
Rebuilding squad faces uphill task of advancing out of the difficult Group C
BEIJING - With Houston Rockets All-star center Yao Ming only just recovering from a serious foot injury, his national team continues to struggle to find form ahead of the FIBA World Championship of basketball that tips off in Turkey on Saturday.
China, which opens its Group C campaign against world No 4 Greece on Saturday, has suffered six lopsided warm-up losses in a row and shows few signs of upsetting any of its stronger opponents at the Worlds.
Related readings:


 Team Canada win FIBA World Championship exhibition game


 2010 FIBA World Championship draw


 Brazil wins 2009 FIBA Americas Championship


 China beats India at FIBA Asia Championship 2009


 FIBA Women's World Championship
On paper, China, ranked ninth in the world, must at least win its matches against lower-ranked Puerto Rico and Cote d'Ivoire to make it to the knockout stage.
The Puerto Rico clash looks tough as it comfortably beat China 92-76 in a warm-up game last week in New York.
The group also includes the World Championship host Turkey and 2007 European champion Russia.
China's American coach, Bob Donewald Jr, who took over the national squad in April, admitted the team still needs time to improve and has played down its chances at the Worlds.
"We do not have Yao. We have many young players in this team. We still need to work and improve," said Donewald, who released China's 12-member squad on Wednesday.
"The World Championship is an important test for them but, to me, I have my eyes on the 2012 London Olympic Games.
"The World Championship will be a very good experience for these young players."
Donewald surprisingly axed power forward Li Xiaoyu and included 17-year-old guard Guo Ailun and 20-year-old Yu Shulong, also a guard.
Without Yao, China has to rely on Washington Wizards power forward Yi Jianlian and former NBA players Wang Zhizhi and Sun Yue to provide the bulk of the offense.
Yi, 23, has impressed as a leader of the team during the past few warm-up matches, but he can't single-handedly lift the Chinese team.
The lack of a world-class point guard and little on-court cohesion are the team's major weaknesses.
It is a telling statistic that China's total assists have not matched those of opposing point guards in recent games.
Meanwhile, host Turkey is expected to win the group and advance deep into the event.
Turkey's best performance at an international event was a silver medal won at the 2001 European Basketball Championship. It lost the final to Serbia.
"If Turkey manages to qualify for the semis, this will be quite an achievement," Turkish basketball announcer Murat Murathanoglu told local newspaper Zaman. "Our odds of winning a medal depend on our performance in Group C. If we qualify for the following round as the group leader and if America and Spain are not defeated, we can make it to the semis."
Turkey's biggest rival to win the group should be the arch-rival Greeks.
Greece has won the European title twice, in 1987 and in 2005. Its best performance on the world stage was achieved in Japan, where it won silver in 2006.