Spain, Greece, Argentina and the United States will head separate groups at basketball's world championship in Turkey next year.
The draw, held Tuesday in an Istanbul hotel, divided 24 teams into four groups of six, with each team playing the other five in their group. After that, the top four teams in each group head into a knock-out stage.
Spain won the last championship in Japan in 2006. Argentina is currently the top-ranked basketball country, and the United States won gold at the Olympics in Beijing.
The championship will be played August 28-September 12 in the cities of Ankara, Kayseri, Istanbul and Izmir.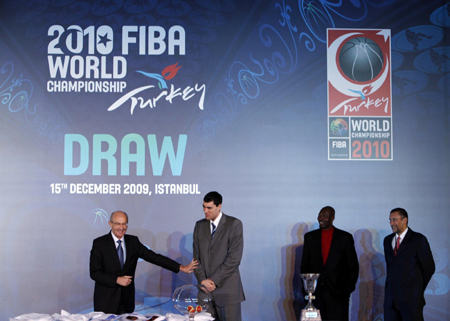 (L to R) FIBA Sports Director and former basketball star Lubomir Kotleba, Puerto Ricon basketball player Daniel Santiago, former NBA star Hakeem Olajuwon and former Turkish basketball player Efe Aydan attend the draw for the 2010 FIBA World Championship in Istanbul December 15, 2009.[Agencies]