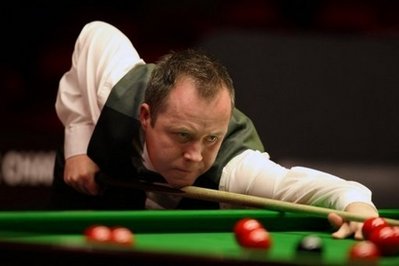 World snooker number one John Higgins, seen here in 2009, was suspended from all World Professional Billiards and Snooker Association (WPBSA) tournaments over a report that he agreed to take a bribe for fixing matches.  [Photo/Agencies]
SHEFFIELD - World snooker champion John Higgins was suspended by the sport's governing body on Sunday after a newspaper reported he had agreed to take a bribe to lose frames.
Just hours before the sport's showpiece world championship final started in Sheffield, World Snooker said Higgins, who was knocked out in an earlier round, was suspended from playing until an investigation into the claims in the News of the World newspaper.
"John Higgins has been suspended from future... tournaments, pending an immediate enquiry," World Snooker's chairman Barry Hearn said in a statement.
The newspaper described a meeting between Higgins, his agent Pat Mooney and reporters purporting to be businessmen in Kiev, which took place days after he was unexpectedly beaten in Sheffield by Steve Davis, where the subject of throwing frames was discussed.
"Pat Mooney has resigned from the WPBSA (World Snooker) board and his resignation has been accepted, with immediate effect," Hearn added.
"This matter has brought the very fabric of the game into question and the strongest possible message needs to be sent out that this behaviour has no part to play in our game and will not be tolerated. Any wrong doing will be severely dealt with."
There is no suggestion Higgins, 34, has ever thrown a frame or fixed a match.
The paper said it had a video of Higgins, who won the last of his three world titles at Sheffield last year, and Mooney making the deal.
"I've read the piece, I've seen the video, I would imagine I can't see any reason not to suspend him at this moment in time," World Snooker's chairman Barry Hearn told the BBC.
"It's come as a huge shock and obviously an enormous blow to the integrity of the sport which is vital for the expansion plans we have.
"It's really been a shattering experience and one which will be immediately looked into by our disciplinary people under the WPBSA rules."