HAIKOU - Golf could evolve into a big business in China and give the country a chance to win Olympic medals, officials and scholars said in the capital of Hainan province yesterday.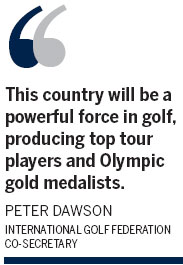 "This country will be a powerful force in golf, producing top tour players and Olympic gold medalists," International Golf Federation (IGF) co-secretary Peter Dawson said at the Haikou Golf and Tourism Forum that opened in the tropical island on Thursday.
Dawson said the inclusion of golf at the 2016 Olympic Games will benefit China and golf tourism in Hainan, China's southernmost province, as it attempts to build itself into a top international tour destination by 2020.
Xiao Tian, vice-director of the State General Administration of Sport, said China would "grasp" the Olympic opportunity to vigorously support development of the golf industry.
Measures would include further popularizing the game among the masses and building Hainan into "a golfing heaven", he said.
Related readings:


 Hainan aims high on golf identity


 Golf world rejoices in Tiger's comeback


 Golf GTI: First sports car made in China by a global brand


 Local golf courses never 'approved'
Aside from the Olympic push, the country's torrid urbanization pace, plus its zeal to promote the tourism sector, should also usher China into a boom period for golf, Chi Fulin, president of the China Reform Research Institute, said.
It is an international trend that the higher the urbanization rate, the greater the number of golfers, Chi said.
He went on to say China could expect to have more than 30 million players by 2020. There are currently about 3 million.
China is also the world's largest producer of clubs, balls and other golf products, according to research Chi's institute released at the forum.
Moreover, developing the golf industry will create more jobs, Chi said.
The golf industry offers about 360,000 jobs in China now. That is expected to increase to 3.4 million by 2020, he estimated.
With golfing already established a major in some Chinese universities, Chi proposed the country develop Hainan into a national golf base.
Chen Ci, chief of the Communist Party of China Haikou Committee, said Hainan will develop golf tourism without compromising environment or encroaching upon the arable land
Chen Chuzhen, a veteran who came to Hainan in 1983, said he believed golfing is a thriving business in the island, as he had seen golfers from Singapore, Hong Kong and South Korea come in droves to the island, where they could play the game at far lower cost than they do at their homes.
But the teeing grounds are merely a luxury for local residents, Chen said.
"I couldn't even afford to buy a club. House prices have soared, life cost is on the rise (after the national plan was unveiled to build Hainan a top international tourist resort), but not our salary."